'A violent explosion': RCMP to provide update on Sherwood Park fire investigation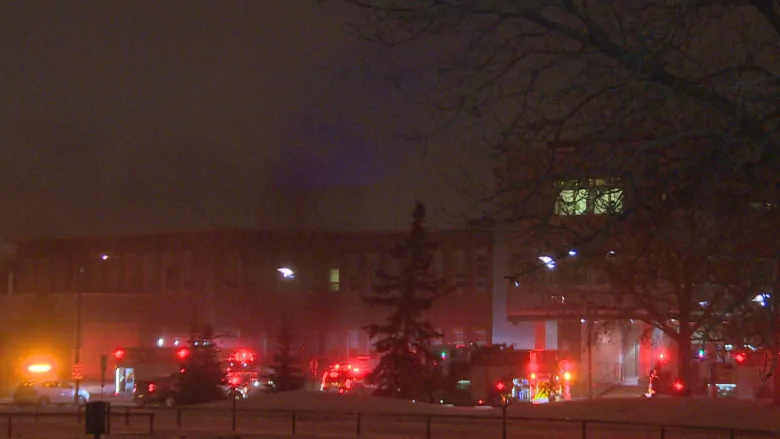 Strathcona County RCMP are expected to provide an update this morning on their investigation into a fire — and reports of an explosion — inside a Sherwood Park community centre.
Emergency crews and tactical units swarmed the Strathcona County Community Centre on Tuesday night after a fire broke out inside the building.
Witnesses reported hearing an explosion around 8 p.m. A nearby seniors home was evacuated and road blockades were erected in the area.
Throughout the night, heavily-armed officers could be seen moving in and out of the community centre complex, which houses the county's council chambers as well as the library, meeting rooms and outdoor plazas.
On Wednesday, all entrances to the building remained blocked off by police. St. Theresa school and Salisbury Composite High School also remained closed for the day.
RCMP Superintendent Dave Kalist, director of Emergency Services Chief Jeff Hutton and Mayor Rod Frank are all expected to speak at a 11:30 a.m. news conference
CBC News will livestream the news conference live here.
This is the scene at the corner of Festival way and Sherwood drive. Traffic heading south across from the mall still be rerouted. Heavy RCMP police presence at all entrances to the community centre. <a href="https://twitter.com/hashtag/ShPk?src=hash&amp;ref_src=twsrc%5Etfw">#ShPk</a> <a href="https://t.co/srONauoNk1″>pic.twitter.com/srONauoNk1</a>

&mdash;@MinDhariwal
An RCMP officer on scene told CBC News there are no active evacuations in place. The officer said police are focused on keeping people away from the parkade underneath the library.
A man named Jim, who asked that his name be kept anonymous, was at an AA meeting on the main floor of the library when the entire building began shaking.
There was an angry rattle from the parking garage below.
"I hunt and I've been around fire alarms my whole life, and I'm aware of what loud bangs and booms are," he said "This was a violent explosion. It shook the building. The boom lasted seconds.
"The concrete under our feet shook. Our chairs shook."
As the fire alarms began wailing, Jim, his partner and their group went outside to the parking lot where emergency vehicles had begun to arrive.
Jim wanted to retrieve his vehicle from the parkade. He walked down the entrance ramp and walked through the overhead door which was jammed wide open.
"As we walked around the corner, the lights were still on down there but there was a hue in the air," he said. "I'm not sure what it was. It didn't smell like smoke and it left sort of an acidic taste in my mouth.
"My eyes burned. My throat burned."
While police have not confirmed that any kind of blast occurred inside the building, Jim said he has no doubt there was an explosion.
"It was a large explosion. Nothing small about it," he said. "I hope everyone is OK … It's a crazy world we live in."
Police remained on the scene into Wednesday after a fire broke out inside the Strathcona County Community Centre in Sherwood Park. (CBC)