This is the end for Edmonton's End of the World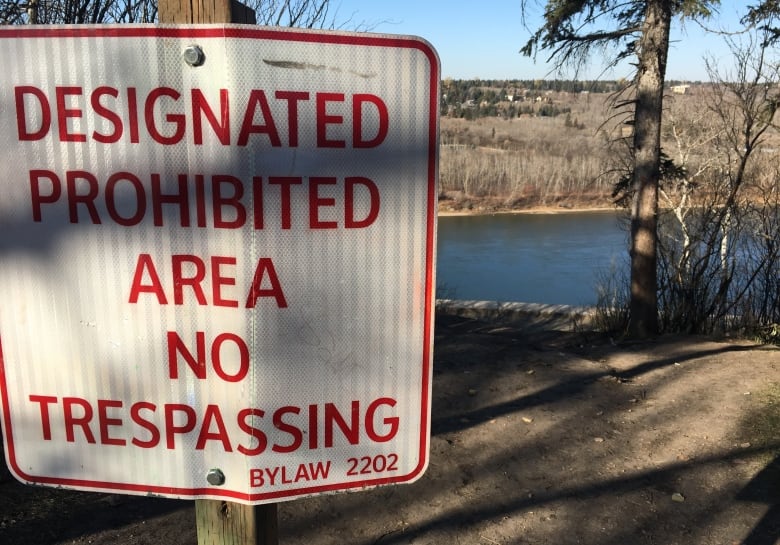 A popular but perilous lookout over Edmonton's river valley is getting a facelift and a new name.
A set of stairs will cover a steep, dirt slope that leads to what is locally called the End of the World off Saskatchewan Drive near 74th Avenue.
A railing will go up along the concrete wall at the top of the river bank.
The city launched the $1.5-million project at the site Monday.
Roger Laing with the Belgravia Community League has been working with the city since 2015 on a plan to make the area safer and more accessible.
"It's going to become an asset for the entire community," Laing said. "We can safely go there and we can take these signs down that say it's a prohibited area, and open it up and enjoy what it has to offer."
Signs were put up at the site three years ago warning people to stay out. (CBC)
Though it has been designated a prohibited site people still venture down despite "no trespassing" signs.
The picturesque spot attracts a variety of sightseers, including people who party and leave garbage.
Laing said there have been accidents.
"We've certainly seen the fire department coming and rescuing here."
The End of the World will also have a new name: it's now officially called Keillor Point Viewing Area.
A city rendering of the completed Keillor Point Viewing Area, expected to open to the public by January 2019. (City of Edmonton)
Laing, also the chair of the Keillor Point committee, said he is comfortable with the name chosen by the City of Edmonton naming committee.
"I don't think this is the end of the world," he said of the site. "It's a place where we want to feel it's safe."
The lookout is the product of the former Keillor Road, which closed in the mid-1990s.
Aaron Lewicki, a city director, said the project includes removing some of the exposed columns facing the river, which used to be part of Keillor Road.
Keillor Point will also get a trail and landscaping in spring 2019.
Lewicki said the city will monitor the slope during and after construction to make sure it remains safe.
"If geotechnical monitoring indicates that there is an issue, the site will be closed to the public and further evaluation will be conducted."
The project will cost $1.5 million and includes design, public engagement sessions and construction.