'Poisoned' street drugs trend frightening, safe injection site manager says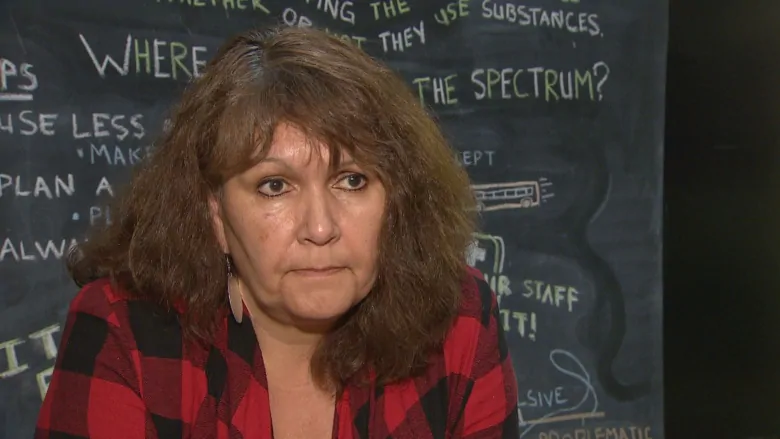 Every dose is dangerous when drug users don't know what they're consuming, says the manager of two of Edmonton's three supervised injection sites.
"Unfortunately, what they buy and what they actually get are two very different things," said Marliss Taylor, director of Streetworks, a harm reduction program.
"It is such a poisoned drug market right now, that you don't know what you're getting.
"What we need is a regulated market so we can control those things."
'Very scary'
Taylor recently tested a small sample of street drugs brought by safe-injection clients to the Boyle Street Community Services site, open since March, and the George Spady Centre, open since April.
The lab results were alarming. Seven of the substances, believed to be heroin, were actually fentanyl. One of those samples also tested positive for MDMA.
The final sample, thought to be fentanyl, was cocaine.
"Out of the eight samples that we tested, none of them were what the person thought they bought," Taylor said in an interview Monday with CBC Radio's Edmonton AM.
"It's very scary."
Street drugs are often laced, making every dose a potentially deadly cocktail of opioids and other drugs.
Across Canada, there have been warnings about fentanyl- and opioid-laced cocaine, heroin and ecstasy.
Last week a man overdosed at an Ottawa safe injection site, dying later in hospital, despite a rescue attempt using naloxone.
Naloxone can reverse the powerful effects of opioid overdose almost immediately, but it will not work as an antidote for other substances, including a recent influx of new designer drugs.
Marliss Taylor, longtime manager of Edmonton's Streetworks needle exchange, says street drugs should be decriminalized so addicts can obtain cleaner drugs. (CBC)
For instance, when the street drug W-18 first appeared on the Alberta black market in early 2016, many wrongly assumed it was an opioid, and overdoses were often mistreated with naloxone, Taylor said.
However, W-18 is not a synthetic opioid, or any kind of opioid at all.
"The naloxone wouldn't work. It's not that it was resistant. At the end of the day it wasn't an opioid," Taylor said. "Anyone who takes crystal meth, naloxone isn't going to work on that either. It only works for opiods."
Taylor's safe injection sites haven't seen a similar incident in 17,000 visits by roughly 800 individual users, but the trend is frightening, she said.
"It's not that these users are intentionally taking strange substances, it's that they believe they're getting something like heroin or oxycontin, but in fact they have something that's not even close."
Some front-line addictions agencies have started using spectrometers, which can detect potentially deadly chemicals within seconds.
The machines can be used to warn drug users of bad batches, inform policy-makers and researchers, but cost upwards of $50,000 and require a skilled technician.
Test strips are a much cheaper option but can be unreliable, she said.
Instead, she would like to see all street drugs decriminalized. Without that, desperate street users will continue to suffer, Taylor said.
"Because people can't easily get a pharmaceutical-grade substance, they will buy whatever they have to make that [withdrawal feeling] go away.
"It would be way simpler if we could prescribe these drugs and get a pharmaceutical grade drug for them. It's cheaper, quicker and safer."