Moosehide Campaign holds 3rd national gathering in Ottawa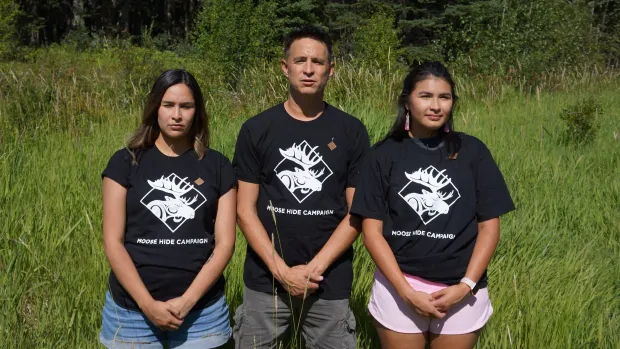 In an effort to raise awareness about violence against Indigenous women and children, people from across the country are participating in the Moosehide Campaign's day of fasting and third national gathering Thursday in Ottawa.
"We will be having the support of every member of the House of Commons and the Senate to be wearing the moosehide patch, and many of them fasting with us," said organizer Paul Lacerte.
Lacerte is from the Nadleh Whut'en First Nation in B.C. The community is along Highway 16 between Prince George and Prince Rupert, also known as the Highway of Tears.
He co-founded the Moosehide Campaign, which aims to end violence against Indigenous women and children through raising awareness among men and boys, with his daughter Raven Lacerte.
Idea came from moose harvest
The idea came to the father and daughter when they were harvesting a moose in their traditional territory along Highway 16. They decided they would tan the hide and cut it into squares to distribute to men to engage them in the effort to end violence against women and children.
Lacerte also wanted to use fasting as a way of reaching people from all backgrounds and religions.
"We are inviting predominantly men and boys — but we include women — to not eat or drink for the day to demonstrate our commitment to ending violence against women and children," he said.
"It's part of our theory of change that if as men in this country, if we're going to make progress at ending violence against women — especially Indigenous women — then we need more ceremony in the space to help people change the way that they behave."
The event in Ottawa is expected to have remarks from Justice Minister Jody Wilson-Raybould and Crown Indigenous Relations Minister Carolyn Bennett, and the national youth ambassador for the Moosehide Campaign, Sage Lacerte.
It will also have men's and women's sharing circles and a walk to the steps of Parliament.
Moosehide

pins

According to Lacerte, the campaign has distributed more than 1.2 million pins made of squares of moosehide to more than 800 communities in Canada since 2011. The campaign says the hides for the pins come from moose hunted for food or animals killed in road accidents.

There are more than 2,000 moosehide campaign projects going on across the country, including government departments and RCMP detachments across Canada.

Lacerte is expected to announce a five-year partnership with the RCMP which will see the Moosehide Campaign develop training modules for new recruits.

People participating in the day of fasting are expected to break their fasts at sundown Thursday.