First police officer killed in Edmonton gets grave marker one century later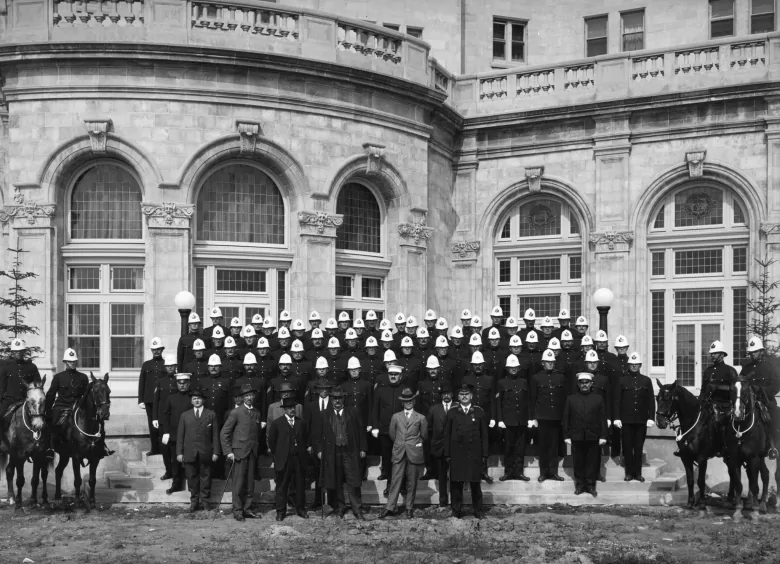 One hundred years after he was killed while attempting to arrest a suspect, the Edmonton Police Service is marking the grave of its first officer killed in the line of duty.
Const. Frank Beevers was killed on Oct 17, 1918, while trying to capture a fugitive wanted for robbery and the murder of a businessman.
Beevers was buried at the Edmonton Cemetery at 118th Street and 107th Avenue and while he "laid to rest with full police honours," no headstone was ever placed on his grave.
"No one should be buried in an unmarked grave, especially after making the ultimate sacrifice protecting citizens," said Chief Rod Knecht said in a news release.
"We may never truly understand the background to the missing headstone, but today we have the opportunity to set in stone our appreciation for Const. Beevers selfless service."
The Edmonton Police Department shown in photograph believed to have been taken in 1916, two years before Beevers was killed. (Edmonton Police Service)
Two years ago, a local history enthusiast, Sheila Thomas, alerted the police service that Beevers grave had no headstone.
Since then, the service commissioned a monument, donated by Edmonton Granite Memorials.
A ceremony, to be attended by a distant relative of Beevers, will be held at the grave at 1:30 p.m. Thursday.
​Beevers was initially hired by the Edmonton Police Department in 1915 as a custodian. Three years later he was promoted to constable. The EPS credits him as a "conscientious and efficient officer with sterling character."
Beevers was born in Leeds, England in 1866.