Renewable will be in mix when Edmonton negotiates new energy contract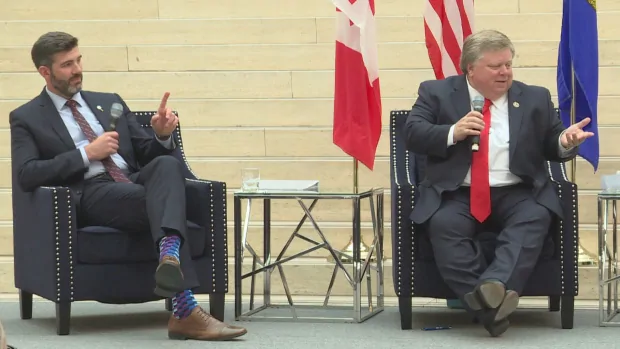 The City of Edmonton wants all of its operations to be powered by renewable energy sources by 2030, and is looking at upcoming electricity contract negotiations as a chance to achieve that.
The city spends about $35 million each year on the 300,000 megawatt hours of power, used for everything from keeping the lights on at city buildings to running the LRT.
That's a huge energy demand that could spur new renewable energy development, such as a mid-size wind farm, a crowd at city hall was told on Monday.
Mayor Don Iveson and the mayor of Georgetown, Texas, were there for a public discussion about how municipalities can transition to renewable energy.
Dale Ross, the Republican mayor of Georgetown, talked about how his city of 70,000 people has managed to source all of its electricity needs from wind and solar power over the last few years.
He said the decision was always "first and foremost, a business decision."
"It was just the right timing," Ross said. "We had a wind farm that needed a contract in order to get financing, and the same for a solar farm in west Texas. So by signing those contracts, the banks lent them the money to build both farms."
In exchange, Georgetown has a long-term contract to buy power at consistent prices.
The Texas city is different from Edmonton in several ways — Edmonton is more than 10 times bigger, and Georgetown has a city-owned utility that powers all of its households. The market for renewable energy in Texas is also several years ahead of Alberta, meaning generating capabilities were already readily available.
But Ross said many cities face common problems, such as long-term energy contracts that can be hard to break.
"One of the things that hinder cities and municipalities from going 100 per cent renewable energy is they have existing contracts with say, maybe a coal plant, that go out 20 years," Ross said.
"We broke our contract but we wrote big cheque to get out of it, because we did the cost savings (analysis) over the terms of the contract. But that's what a lot of cities can't do right now, because they're in these contracts and they're not going to expire any time soon."
Edmonton contract to expire
Edmonton is currently renegotiating its energy contract for another five years. But it's unclear how much "green energy" the city will be able to incorporate into the next phase of its contract.
In June, city council directed an energy transition team to take up to two years to conduct a "robust analysis" of how to procure more green energy, said Mike Mellross, the city's program manager for energy transition.
The city has a long-term energy contract that is renewed in five-year increments, he said. There are different principals that might be applied to purchasing green energy.
For example, to do something like "catalyze" the construction of new renewable energy generation, Mellross said, "you go to market, get the electricity contract in place, then you need two to three years of development time for that new generating facility to come on board.
"So if that's the approach we take, we're still a few years away from being able to have 100-per-cent green electricity."
But he wouldn't rule out the possibility of that happening sooner.
Iveson noted that with the provincial government also trying to spur more renewable energy development, the future for solar and wind in Alberta is improving.
"Texas has been a leader, with a lot of successful conventional energy folks who started investing with renewable pretty early in the cycle," he said. "So their market has a few years of maturity on ours. That said, moves by the provincial government to improve the conditions and viability for renewables mean that we're able to catch up."