'Stubbornly optimistic': Both sides hail progress in Brexit talks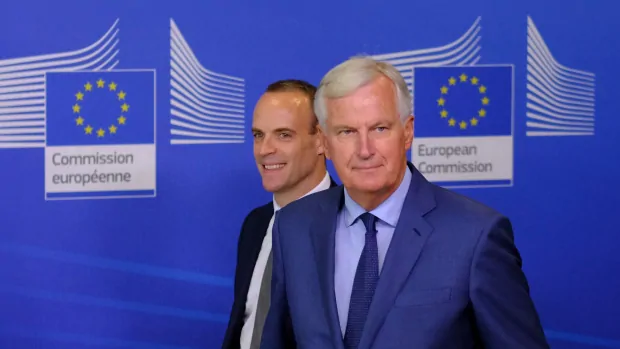 EU and U.K. negotiators on Friday talked up prospects of agreeing to a Brexit deal this autumn, citing recent progress in detailing close security co-operation to take effect after Britain leaves the bloc.
The European Union's Michel Barnier says it's "possible" to get an agreement on Britain's withdrawal from the EU in time for a summit of the bloc's leaders in Brussels from Oct. 18 to 19, but added that a delay into November was also possible.
After his latest talks with Barnier, Brexit Minister Dominic Raab said he's "stubbornly optimistic" and "as confident as before, if not more" that there would be a deal soon.
The two said they made progress Friday during tover security co-operation, including on exchanging data.
"Europe's security is the United Kingdom's security," Raab told a joint news conference in Belgium.
Barnier said unresolved issues included geographical indications, the role of the EU's top court in policing the agreement and data protection, among others.
Irish border remains an issue
After weeks of warning of growing risk of a damaging no-deal Brexit and signalling delay was expected if there is to be any Brexit deal, the EU's strategy is now to highlight how close co-operation with Britain is possible after Brexit to make London more willing to accept divorce terms.
That goes specifically for the sensitive issue of the EU-U.K. land border between Ireland and British-ruled Northern Ireland, where the EU wants a "backstop" solution in case of no deal, which includes terms that are anathema to London.
"We must have a detailed backstop solution, which is legally operational in the withdrawal agreement," Barnier said. "This backstop is critical, it's essential to concluding these negotiations. With no backstop, there will be no agreement."
Barnier said the EU and U.K. were working for an "unprecedented partnership" that would include a broad free trade agreement, as well as sectoral co-operation deals in aviation, security and research, among others.
"It's unprecedented, such a partnership with a third country," Barnier said. "But the preliminary condition to that is that we have to organize an orderly withdrawal of the U.K. That's the condition of the unprecedented partnership in the future."