Spooked horse caused wagon crash at Fort Edmonton Park, official says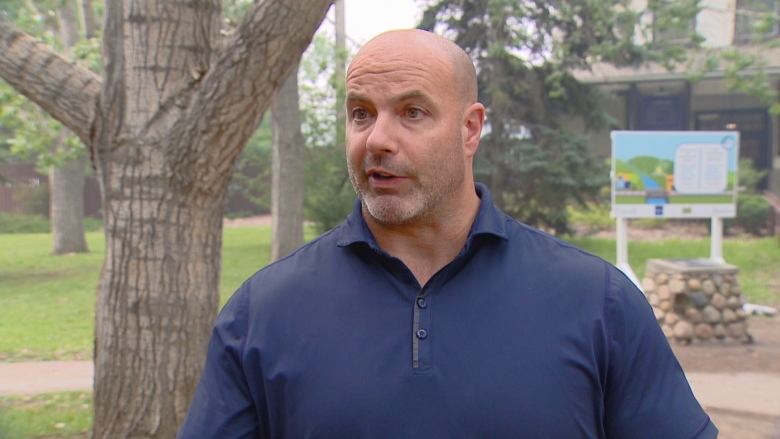 Officials at Fort Edmonton Park say they now have a sense of what happened to cause a horse-drawn carriage to crash Wednesday, injuring six people.
One of the two horses pulling a wagon carrying seven passengers and a driver was spooked by a loud noise or a wasp sting, Darren Dalgleish, president of Fort Edmonton Management Company, said Thursday.
At the same time, one of the reins came loose from the driver's hand, Dalgleish said.
"The driver recovered the rein right away and the horse took off at a gallop," he said.
The driver pulled back on the reins but wasn't able to stop the horses, he added.
"So there was a collision [with] a tree where the horse was injured, as well as the wagon turning over, and that's when people were ejected."
On Wednesday, Dalgleish said there were seven to 10 park guests on the wagon when it turned over.
Thursday, he confirmed there were seven passengers on board, and the driver. Six passengers were taken to hospital, with one of them initially listed in serious condition.
Dalgleish said he's been told the condition of that person has been downgraded to stable.
"I guess the silver lining here is the response was excellent," he said Thursday.
A veterinarian at the park is monitoring the injured horse, which is having "some difficulty walking," Dalgleish said.
The wagon driver received some bruises and was back at work Thursday, he added.
Darren Dalgleish, president of Fort Edmonton Management Company, said Thursday a thorough review of the crash is underway. (CBC)
The damaged wagon has been removed from where it crashed, near the fort structure.
Park staff are reviewing statements from witnesses.
Wagon rides and pony rides at the park have been suspended.
"This gives us pause to look at the program, do a full risk assessment again and make sure that everybody's comfortable going forward," Dalgleish said. "It's purely about visitor safety."
Occupational Health and Safety officials were at the park Wednesday conducting their own investigation.
It will likely take a number of weeks to complete that report, said spokesperson Trent Bancarz.
Animal programming is part of the heritage open-air museum and it would be "premature to say this would cause permanent elimination of that type of programming," Dalgleish said.
The wagon and pony rides may be back in operation next week, he said.
"We're incredibly surprised by this event but we're going to spend the time necessary to make sure this can't happen again."