Snack checker: Edmonton AM's quest for the city's ultimate snack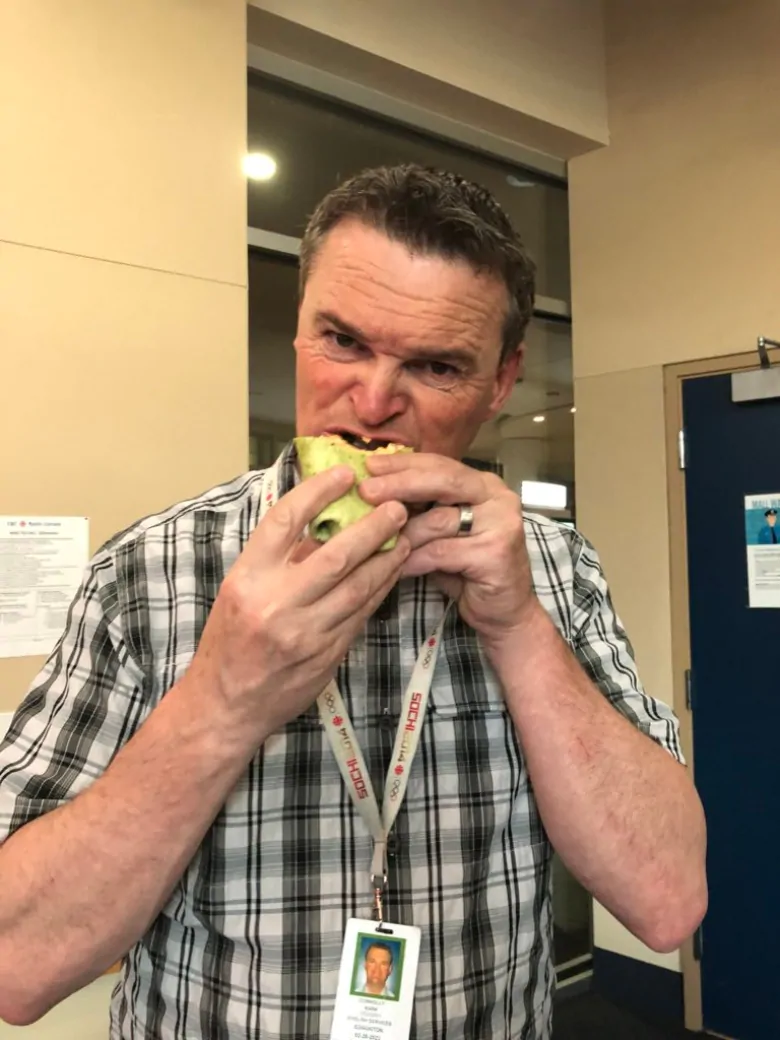 Edmonton AM's tastiest segment has taken the morning-show crew on a summer-long search for the city's ultimate snack.
The food odyssey focuses on finger foods and small bites.
Every week, host Mark Connolly and the crew have sampled a different local delicacy and ranked it on three main factors — taste, convenience and satisfaction.
Edmonton AM host Mark Connolly sure likes to eat. (CBC)
The quest for the perfect snack continues, but we have been keeping score (with a very unscientific method).
There were many strong contenders but it's clear that, when it comes to a balanced breakfast, we have a sweet tooth.
As of August, the decadent chocolate brownie from Sugared & Spiced Baked Goods was first in the rankings, with an almost perfect score of 4.9 out of 5.
In second was Carol's Quality Sweets' homemade peanut butter cups.
Hawaiian style doughnuts, also known as Malasada, from Ohana Donuterie, ranked third.
The final four will face off in a delicious showdown.
The ultimate winner will earn the title of Edmonton AM's ultimate snack, some serious bragging rights and the honour of feeding the sleep-deprived morning-show crew some light breakfast.
May the best snack win.
Here are the scores so far:
Buddy Wonton Seafood Restaurant — green onion cakes — 3.07
Duchess Bakery — crocnut — 4.3
Glow Juicery— protein-packed, raw vegan breakfast cookie — 3.07
Avila Arepa— Venezuelan-style Arepas — 4.26
Cookie Love — triple chipper, mini ice cream sandwich — 4.5
The Common — freshly popped popcorn — 4.1
Doughnut Party — deep-fried doughnuts — 4.3
Sweet Lollapalooza — buttercrunch chocolates — 4.4
Blush Lane — a low-sugar but super sweet monster cookie — 4.2
Flirt Cupcakes — 'Wild on Whyte' cupcake — 4.4
Zwick's Pretzels — cheesey pretzels — 4.3
Sugared & Spiced Baked Goods — a decadent chocolate brownie — 4.9
Honest Dumplings — fresh dumplings — 4.5
SugarBowl — sweet cinnamon buns — 4.3
Carol's Quality Sweets — handmade peanut butter cups — 4.8
Ohana Donuterie — Hawaiian-style doughnuts — 4.6
Betsy's Deli — South African dried sausage — 3.8
Meuwly's Deli — a meaty charcuterie — 4.2
B & A Bakery — traditional baklava — 4.4
Jump Candy Kitchen — healthy nut and sesame seed candy — 3.8
Sweetening up your Wednesday on <a href="https://twitter.com/hashtag/SnackChecker?src=hash&amp;ref_src=twsrc%5Etfw">#SnackChecker</a>. Stay tuned to see what's up this week from Sugared and Spiced Baked Goods! <a href="https://t.co/wRW5I1rKV4″>pic.twitter.com/wRW5I1rKV4</a>

&mdash;@EdmAMCBC
All part of a balanced breakfast. We've got <a href="https://twitter.com/flirtcupcakes?ref_src=twsrc%5Etfw">@flirtcupcakes</a> coming up on <a href="https://twitter.com/hashtag/Snackchecker?src=hash&amp;ref_src=twsrc%5Etfw">#Snackchecker</a> <a href="https://t.co/eKsN6iy25m">pic.twitter.com/eKsN6iy25m</a>

&mdash;@EdmAMCBC
Swerving into savoury territory today for <a href="https://twitter.com/hashtag/SnackChecker?src=hash&amp;ref_src=twsrc%5Etfw">#SnackChecker</a> with <a href="https://twitter.com/zwickspretzels?ref_src=twsrc%5Etfw">@zwickspretzels</a> 🥨 <a href="https://t.co/zQ1p5cJ5EU">pic.twitter.com/zQ1p5cJ5EU</a>

&mdash;@EdmAMCBC
It's getting steamy in studio ahead of <a href="https://twitter.com/hashtag/SnackChecker?src=hash&amp;ref_src=twsrc%5Etfw">#SnackChecker</a>. Stay tuned to hear nothing but the truth from <a href="https://twitter.com/HonestDumplings?ref_src=twsrc%5Etfw">@HonestDumplings</a> 🥟 <a href="https://t.co/FnPMGX5BUT">pic.twitter.com/FnPMGX5BUT</a>

&mdash;@EdmAMCBC
Our new third place <a href="https://twitter.com/hashtag/SnackChecker?src=hash&amp;ref_src=twsrc%5Etfw">#SnackChecker</a>: a classic Hawaiian donut right here in <a href="https://twitter.com/hashtag/yeg?src=hash&amp;ref_src=twsrc%5Etfw">#yeg</a>! Fresh from <a href="https://twitter.com/OhanaDonuts?ref_src=twsrc%5Etfw">@OhanaDonuts</a> <a href="https://t.co/3Vvb8l5GHO">pic.twitter.com/3Vvb8l5GHO</a>

&mdash;@EdmAMCBC
The <a href="https://twitter.com/hashtag/SnackChecker?src=hash&amp;ref_src=twsrc%5Etfw">#SnackChecker</a> is ready! <a href="https://twitter.com/knako?ref_src=twsrc%5Etfw">@knako</a> has <a href="https://twitter.com/cookieloveyeg?ref_src=twsrc%5Etfw">@cookieloveyeg</a> ready for the next edition of our snack showdown 🍪listen in at 7:20! <a href="https://t.co/MyXe1stpIy">pic.twitter.com/MyXe1stpIy</a>

&mdash;@EdmAMCBC