'Pretty savage' magpie removed from store by customer hailed as hero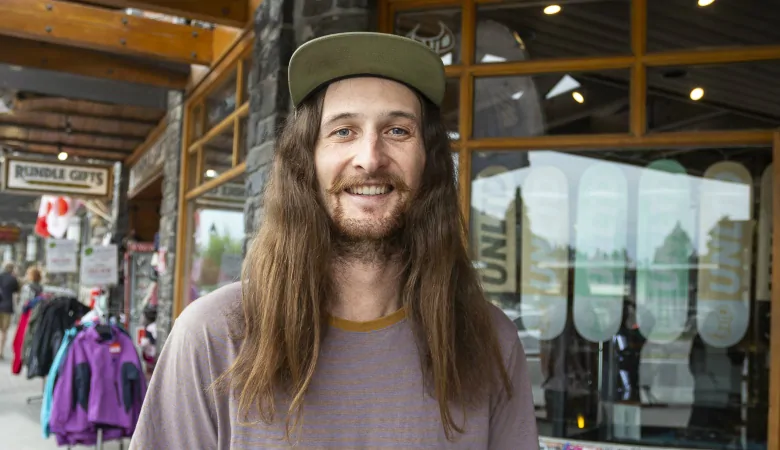 Employees at a store in Banff, Alta., say they were busy cowering when a brave customer took a hectic situation into her own hands — so they made a video in tribute.
On Saturday, a magpie — a notorious bird seemingly ever-present in Alberta towns — scuttled into the shop in the mountain town and took flight.
Unlimited Skate and Snow employees watched dumbstruck as a customer walked over, picked up the bird and took it outside.
In his defence, employee Jordan Soper told the Calgary Eyeopener that the bird was "pretty savage."
"There we were, standing behind the till at work looking at the computer, and all of a sudden, this renegade magpie comes in, flapping its wings, knocking things over," Soper said. "It gave us all quite the fright."
Unlimited Skate and Snow employee Jordan Soper says he's never liked magpies. (Tyler Parker/Unlimited Skate and Snow)
Black-billed magpies have striking blue feathers but are often unwelcome frequenters of urban streets, bouncing underfoot and flying by pedestrians.
This one now stars in a playful video posted to Facebook.
After the strange incident, store staff edited surveillance video so the shots zoom in on the action, and they added suspenseful music.
Watch the store's playful tribute video below:
As three men stood speechless behind the till, the video shows a woman walk over to the bird that's hopping on the counter and sending merchandise flying.
She places her hands over the bird's wings and walks the critter outside to be released.
"She was pretty cool," Soper said.
Staff 'cowering'
Soper and the others were still thinking about what to do — while at least four metres away from the bird — when the "wonderful customer" took care of business for them, he said.
"I stood stunned, shocked and I retreated a little bit. I have to be honest, I didn't go towards the action," Soper said.
"Just the scene that it was making and the commotion, it kind of frightened me, so I moved backwards. The other two didn't do much, either. They kind of stood there cowering, as well."
Store staff watched the bird nervously from the safety of the counter. (Unlimited Skate and Snow/Facebook)
By Monday, the video had garnered nearly 3,000 views on Facebook. Its caption seemed to resonate with commenters.
"Not all heroes wear capes," the caption read. "Props to this amazing woman who bravely stepped in (when our staff started to run) and saved us from a savage, rogue Magpie!"
'Modest hero'
A man posted on the video, saying his girlfriend was the heroic bird/employee rescuer. The store offered her a free pair of sunglasses for her efforts, but he said she was "a very modest hero" who is simply happy all involved are safe.
Soper said the woman has worked with birds at a wildlife sanctuary, so she knew how to handle them.
This customer gently captured the magpie and took the bird outside to release it. (Unlimited Skate and Snow/Facebook)
He said the experience triggered his phobia of birds, which developed as a child growing up in Australia. He said magpies were a bit more vicious there, and were known to peck people, especially during nesting season.
"I think we're going to have to have the staff meeting and look at our magpie policy, see how we can kind of keep them out in the future," Soper said. "Because this is a situation that I don't want to deal with again."
In an email to CBC News, Unlimited Skate and Snow's Tyler Parker said that after speaking with the "strapping young lad," the store had taken Soper's advice.
"After the incident and long discussions with management and ownership, we have banned magpies from the store for life," Parker wrote in the email. "Had to be done. Sorry PETA."
​With files from Ariel Fournier and the Calgary Eyeopener.