N.M. judge called 'terrorism sympathizer' after bail release of compound defendants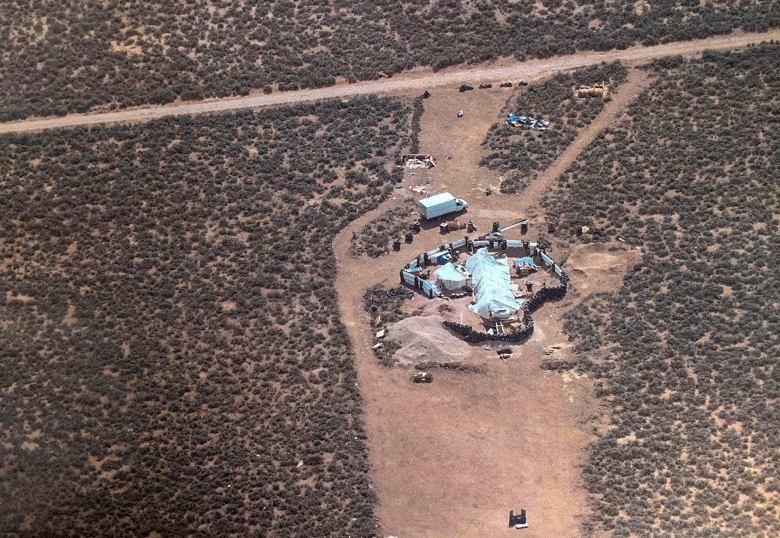 A judge's decision to allow the release of an extended family member accused of child abuse at a ramshackle desert compound in New Mexico prompted a political uproar Tuesday by prominent Republican lawmakers and members of the public.
The controversy was stoked even further when court officials condemned threats of violence made against the judge who issued the ruling and evacuated several administrative court offices as a precaution.
State District Court Judge Sarah Backus on Monday cleared the way for the release of four defendants, despite assertions by prosecutors that the group was training children to use firearms for an anti-government mission and should remain in jail pending trial.
The father of a severely disabled boy who was kidnapped in Georgia will not be released because an arrest warrant has been issued for him in that state.
Another defendant, Jany Leveille, was taken into custody by U.S. Citizenship and Immigration Services on Tuesday, Taos County Sheriff Jerry Hogrefe announced. The 35-year-old native of Haiti is the mother of six children taken into state custody during the compound raid.
Eleven children were taken into custody at the squalid compound near the Colorado border during an Aug. 3 raid by authorities who returned three days later and recovered the body of a small boy.
Backus, an elected Democrat, said her decision to grant release to house arrest, with conditions such as wearing ankle monitors, was tied to recent reforms of the state's pretrial detention system that set a high bar for incriminating evidence needed to hold suspects without bail.
Backus said Monday the state failed to provide evidence backing up key allegations in the case.
"The state alleges that there was a big plan afoot but the state hasn't shown to my satisfaction and by clear and convincing evidence what that plan was," she told the courtroom, noting that none of the defendants has a criminal record.
The search for Abdul-ghani Wahhaj, 3, led authorities to New Mexico, where 11 hungry children and a youngster's remains were found. (Taos County Sheriff's Office via AP)
Initiated by a statewide vote in 2016, New Mexico's bail reforms are modelled after similar changes made in New Jersey and under consideration in California that reduce the role of money as a means of ensuring court appearances or making release impossible for potentially dangerous suspects.
Barry Massey, a spokesperson for the Administrative Office off the Courts, said court buildings have been bombarded with phone calls as well as abuse and criticism on social media.
One caller told Backus "her throat would be slit," he said, while most of the hundreds of calls and emails have referred to her using terms like "terrorism sympathizer."
New Mexico Gov. Susana Martinez, a former district attorney, said Tuesday she "strongly disagreed" with the judge's decision and renewed her criticism of rules for pretrial detention that are determined in part by the state Supreme Court.
"You have a person who is training kids to shoot up schools — they have a compound that is like a Third World country," state Republican Party chair Ryan Cangiolosi said. "There's a child's body on the compound. I believe that allowing them to be released is absurd."
Medical examiners have yet to determine conclusively whether the body found at the compound outside Amalia was that of Abdul-ghani Wahhaj — the three-year-old missing son of compound resident Siraj Ibn Wahhaj. Other relatives have said or told authorities that the remains are those of Abdul-ghani.
Decisions according to law 'not popular sentiment'
Prosecutors presented evidence that Siraj Ibn Wahhaj provided some of the children with firearms training, including tactical skills such as speed-loading guns and firing while in motion. Along with rifles, handguns and ammunition, authorities say they found books on being effective in combat and building untraceable assault-style rifles.
Backus, however, said prosecutors failed to articulate any specific threats or plan against the community.
She also pressed prosecutors for evidence to support allegations that the children were starving at the compound.
Agency head Artie Pepin stressed that the judge's responsibility is to make decisions based on evidence and "not popular sentiment that may develop from incomplete or misleading information."
Suspect Siraj Ibn Wahhaj will remain in jail pending a warrant for his arrest in Georgia that was issued over accusations he abducted his son, Abdul-ghani, from the boy's mother in December and fled to New Mexico.
Three other defendants — Lucas Morton, Subhannah Wahhaj and Hujrah Wahhaj — had yet to be released on Tuesday.
Lawyers for those four defendants say volunteers have come forward to provide a suitable place for them to live as legal proceedings move forward.
Backus set bail at $20,000 US with no up-front deposit — just a threat of a fine if defendants break condition of their release.
Court testimony Monday by an FBI agent shed light on the fate of the boy whose body was found.
Agent Travis Taylor said a 15-year-old resident of the compound described attempts to cast demonic spirits on the child through a ritual that involved reading passages from the Qur'an while Siraj Ibn Wahhaj held a hand on the boy's forehead.
The boy apparently died after one of the sessions, Taylor said.