Morneau to announce next step to protect steel sector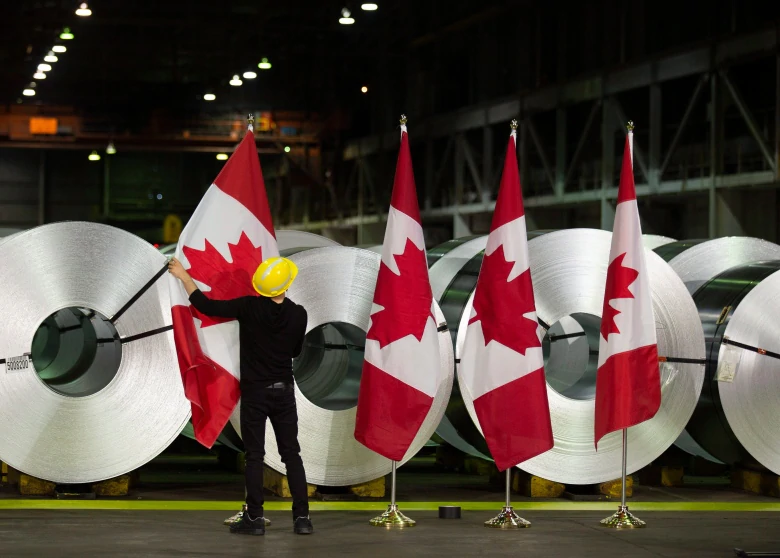 Finance Minister Bill Morneau is in Hamilton today to announce the federal government's next move in support of its domestic steel industry, as U.S. steel tariffs continue to disrupt global trade and divert cheap foreign steel into other markets.
The Trump administration's protectionist measures continue to reverberate across a global industry that was already producing too much steel. Canada wants to avoid the dumping of inexpensive imports, something that damages its domestic industry and risks jobs.
It also wants to avoid being accused of being a "back door" for cheap steel to enter the U.S. if inexpensive foreign product is imported into Canada, perhaps modified in some fashion, and then exported onwards.
CBC News will carry Morneau's announcement live starting at 11:45 a.m. ET from Hamilton, where the minister is touring the ArcelorMittal Dofasco facility.
Morneau spoke last week and again on Monday of his government consulting with industry as it considers "safeguards," which can take the form of either surtaxes or import quotas, or some combination of the two. Under World Trade Organization rules, countries can apply safeguard measures to protect their domestic industries only under specific circumstances.
Canada has never used the emergency measures available to it under Section 55 of the Customs Tariff Act, which provides for an inquiry by the Canadian International Trade Tribunal when "goods are being imported under such conditions as to cause or threaten serious injury to domestic producers of like or directly competitive goods."
This spring, the tribunal determined there is a "reasonable indication" that the dumping of steel from China, South Korea and Vietnam has "caused injury or (is) threatening to cause injury to the domestic industry."
Tough choices ahead
The decision to apply safeguards could be a difficult one for Morneau, however. If they aren't carefully designed, they could work too well and trigger a shortage of steel available to Canadian manufacturers, disrupting more supply chains and risking more jobs.
Canadian steel shipments, along with those from fellow NAFTA partner Mexico and the European Union, were exempt at first from the 25 per cent tariff levied by the U.S. administration of Donald Trump. But by late May, that changed, and these three U.S. allies also faced the tariff.
Chronic steel overproduction has started to abate, particularly in China, the source of much of the troublesome global surplus.
The U.S. tariffs, and the retaliation that followed, has pushed steel prices upwards, causing construction industries to warn new buildings could become unaffordable.
Trump and other members of his administration have made comments suggesting the U.S. sees its steel tariffs as leverage to obtain better trade deals from its partners, including Canada and Mexico at the NAFTA table.
Canada retaliated with a 25 per cent duty on imports of steel products from the U.S., but that doesn't apply to steel coming in from other places.
The federal government has been consulting with Canada's steel industry on its best strategy in the face of disruptive 25 per cent steel tariffs implemented by the U.S. earlier this year. Finance Minister Bill Morneau will announce its next step in Hamilton on Tuesday morning. (Peter Power/The Canadian Press)
For its next move, Canada could mirror an approach taken by the European Union last month.
On July 18, the EU set import quotas for 23 types of steel products. In each category, a tariff of 25 per cent is applied when the volume of imports exceeds the average amount the EU imported over the last three years — meaning the extra cost for the foreign steel is triggered only when volumes suggest dumping could be underway.
The EU quota is allocated on a first come first serve basis, rather than discriminating against any individual exporting country, as required by WTO rules.
Shutting the back door to the U.S.
The federal government has been trying to defend itself against charges that it lets too much cheap foreign steel across its borders.
In April, Prime Minister Justin Trudeau announced $30 million in increased funding to crack down on what the industry calls transshipments — when foreign steel and aluminum move through Canada and into the U.S.
The Canada Border Services Agency (CBSA) now has more power to identify and stop companies that try to avoid duties, and to investigate whether prices charged in an exporter's home market are fair.
Canada has already launched investigations to determine whether some fabricated industrial components from China and South Korea are unfairly subsidized, and whether corrosion-resistant steel sheeting from China, India and South Korea is being illegally sold in Canada at unfairly low prices.