'Mind-blowing' mural by Spanish artists coming to downtown Edmonton wall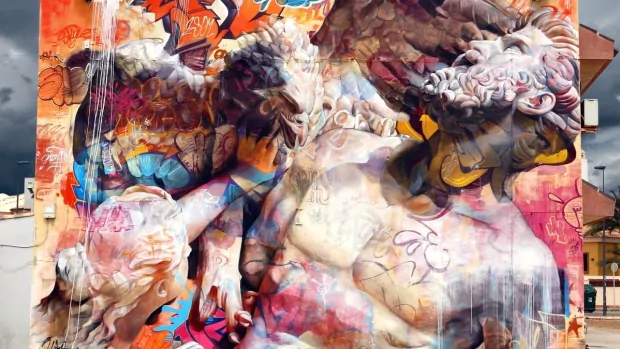 Get ready Edmonton: Another large-scale mural by Spanish artists is coming to a downtown wall.
Once complete, the latest project will feature the work of Spanish artists PichiAvo on the south facing wall of the Jefferson Lofts on 103rd Avenue and 106th Street.
The Spanish duo was hired by organizers Annaliza Toledo and Trevor Peters, creative directors of the Rust Magic International Street Mural Festival.
Organizers said the two artists were chosen for their colourful work, which Peters describes as a combination of "street art with Roman imagery."
If you're an art lover, you're going to love PichiAvo– Trevor Peters, Rust Magic International Street Mural festival
"If you're an art lover, you're going to love PichiAvo," Peters told Radio Active on Tuesday. "They don't do just one type of art. It's a fusion of all types of classic, modern, traditional and graffiti combined."
Organizers are keeping quiet on the specifics of the downtown mural's concept but say it will be "mind-blowing" once finished.
Work on the mural is expected to start as early as Wednesday and could take the artists up to 12 days to complete.
Welcoming international artists
This isn't the first time Edmonton has welcomed Spanish artists. Last month, Spanish street artist Okuda San Miguel had Edmontonians in awe with his recently commissioned six-storey-high, colourful mural in Old Strathcona on the Crawford Block.
Hundreds have flocked to see the large public art piece, something co-ordinators of the PichiAvo mural expect to happen once this latest artwork is complete.
The PichiAvo mural will be the first one ever done by the Spanish duo in Canada.
Toledo said many Spanish artists are known for their stunning artwork and it's no surprise they're leaving their mark in cities like Edmonton.
"We find art coming out of that country is so incredible," she said. "We worked with a lot of Spanish artists in the past and the work they produce is unmatchable."
[embedded content]
The Rust Magic International Street Mural Festival brought in several artists from around the world in 2017 to jazz up some of Edmonton's walls with artwork of various styles.
It's something they want to continue in the city.
"We travel a lot and see the impact this type of artwork has on a community," Toledo said. "We notice there is definitely a lack of it when coming back to Edmonton. It's pretty blank and barren here so why not do a festival and invite people all over the world to paint here."
But some have argued that more support should be given to local artists when it comes to projects of this size.
Since 2016, the festival has created 39 murals in Edmonton, half of those by local artists, said Toledo.
Peters and Toledo said they are always willing to support local creators, and that art pieces like the Okuda San Miguel and PichiAvo act as a potential learning opportunity for those wanting to go big.
"We're trying to introduce them to the city, have artists come out and see what these artists are doing, get inspired and figure out how to do them themselves," said Peters.
The latest mural is one of 10 murals festival organizers hope to complete by the end of summer.
Organizers hope to raise $25,000 in a crowdfunding campaign to complete the PichiAvo mural.
So far, more than $2,300 has been raised online as part of the campaign, and $15,000 leftover from the San Miguel fundraiser has been donated to the project.