Kinder Morgan Canada shareholders vote to sell Trans Mountain pipeline to Ottawa with project in limbo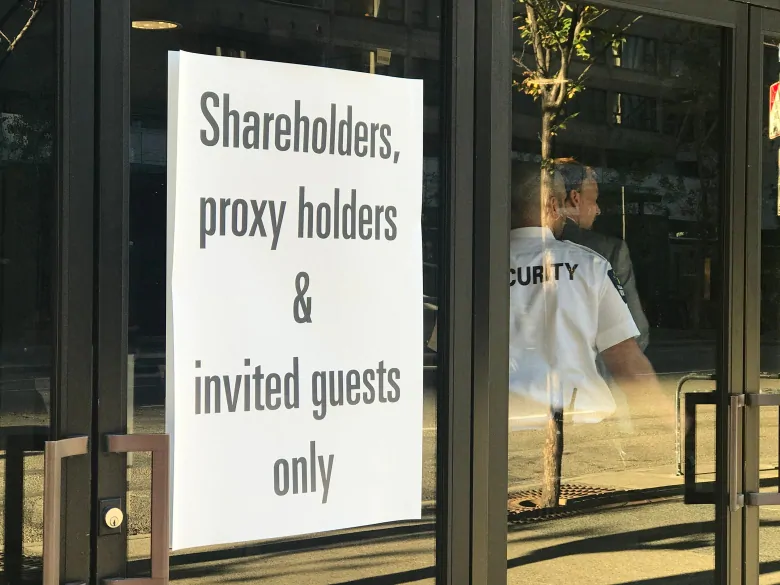 Kinder Morgan Canada shareholders voted overwhelmingly Thursday to approve the sale of the Trans Mountain pipeline and expansion project to the Canadian government for $4.5 billion.
The vote comes shortly after the Federal Court of Appeals quashed the federal government's approvals to build the massive project, handing a huge victory to Indigenous groups and environmentalists opposed to it.
The company held a special meeting Thursday morning at a Calgary conference centre where shareholders voted by a 99 per cent margin to approve the proposed sale to the federal government.
On May 29, Ottawa announced it had struck a deal with Kinder Morgan Canada to purchase the Trans Mountain pipeline and related infrastructure for $4.5 billion — and would spend billions more to build the controversial expansion.
Kinder Morgan Canada shareholders gathered in downtown Calgary Thursday where they voted overwhelmingly to approve the sale of the Trans Mountain pipeline to the federal government. (Carolyn Dunn/CBC)
The company had told the federal government it needed clarity on a path forward for the contentious project by May 31 or it would walk away from construction.
In a decision written by Justice Eleanor Dawson, the court found that the National Energy Board's assessment of the project was so flawed that it should not have been relied on by the federal cabinet when it gave its final approval to proceed in November 2016.
In its ruling, the court said that Canada's efforts to meaningfully consult with indigenous people, as required by law, fell short. It also ruled that the National Energy Board (NEB) regulator wrongly narrowed its review of the project not to include tanker traffic related to the project.
The ruling effectively halts construction of the 1,150-kilometre project indefinitely.
In July, Kinder Morgan Canada Ltd. said the actual price the federal government will pay for its Trans Mountain pipeline system and expansion project will be hundreds of millions of dollars less than the $4.5 billion it announced in May.
In a regulatory filing with the U.S. Securities and Exchange Commission, the company says it estimates it will have to pay at least $325 million in capital gains taxes to the Canadian government when the deal is concluded.
It says that reduces the "net price" to $4.175 billion.
That filing was designed to advise Kinder Morgan Canada shareholders in advance of their vote on Thursday. An attached report from adviser TD Securities concluded that the deal as negotiated is fair for shareholders.
---
With files from Reuters and The Canadian Press