John McCain believed in 'the soul of America,' Joe Biden says at tribute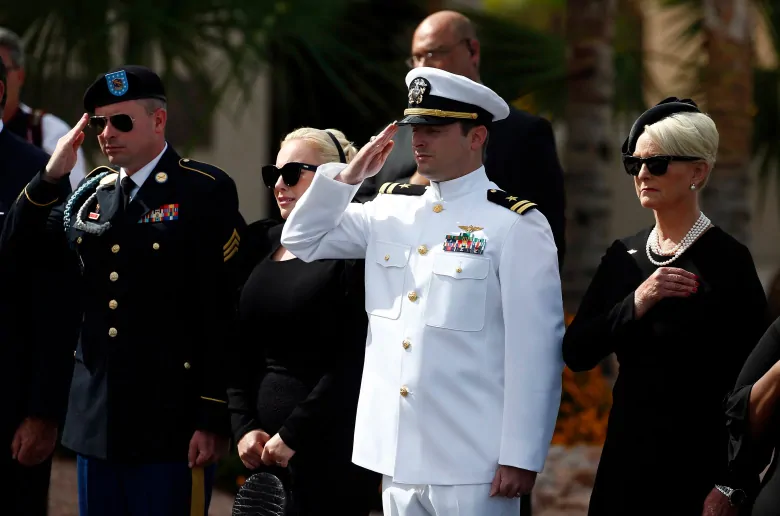 An estimated 3,500 mourners crowded into an Arizona church Thursday to remember Sen. John McCain after a motorcade carrying his body made its way past people waving American flags and campaign-style signs.
Family members watched in silence as uniformed military members removed the Republican senator's flag-draped casket from a black hearse and carried it into the North Phoenix Baptist for the commemoration featuring former vice- president Joe Biden and other dignitaries.
Biden said early in his speech that his friendship with McCain "transcended whatever great political differences we had."
"I trusted John with my life," he said.
Cindy McCain, right, is joined by her sons Jack McCain, second from right, and Jimmy McCain, left, as well as daughter Meghan, second from left, as they watch the casket of Sen. John McCain, R-Ariz., carried from the hearse to the North Phoenix Baptist Church. (Ross D. Franklin Associated Press)
Biden drew laughs by recounting how McCain relished a good fight on the Senate floor.
Biden and McCain were Senate colleagues for about two decades. The Democrat said in his speech lamented the increasing partisanship that characterized Congress toward the end of their mutual time together in the legislative body, with each getting flak from their respective party colleagues for fraternizing too much.
McCain, who served in Congress since 1983 and in the U.S. Senate since 1987. died on Aug. 25.
Biden said it was clear McCain's death has resonated with Americans.
"I think it's because they knew John believed so deeply, so passionately, in the soul of America. That he made it easier for them to have confidence and faith in America."
The honour guard moves the casket into the North Phoenix Baptist Church for a memorial service for Sen. John McCain, R-Ariz., on Thursday. (Matt York/Associated Press)
Biden told McCain's family he understood that there was nothing anyone could do to ease their pain. The same aggressive brain cancer that claimed McCain also claimed their friend Ted Kennedy and Biden's son, Beau.
"I pray you take some comfort knowing that because you shared John with all of us your whole life, the world now shares with you the ache of John's death," he said.
Twenty-four sitting U.S. senators, four former senators and other leaders from Arizona were expected at the service for the maverick politician, former prisoner of war and two-time presidential candidate.
McCain's daughter, Bridget, read a Bible verse at the beginning of her father's service before the longtime Arizona senator's chief of staff started the speeches.
Grant Woods drew laughs Thursday as he said McCain was a bad driver and would introduce Woods to new staff members by saying, "You'll have to fire half of them."
Arizona Cardinals wide receiver Larry Fitzgerald also spoke at the service for the avid sports fan. Fitzgerald said he felt compelled to visit Vietnam after getting to know McCain, even visiting the notorious Hanoi Hilton where the Naval officer was held prisoner.
Larry Fitzgerald, wide receiver for the Arizona Cardinals, said although they were a study in contrasts, he enjoyed a friendship with McCain he will always cherish. (Matt York/Associated Press)
Fitzgerald drew laughs highlighting the contrasts between the pair and by recounting how McCain would occasionally text, "You need to pick it up this Sunday."
The veteran NFLer said he was grateful for being invited to McCain's Sedona Forum, where individuals from different fields gathered to share knowledge and discuss societal issues.
"Ours was an unlikely friendship, but it is one I will always cherish," said Fitzgerald.
Onlookers pay respects to the late senator outside of the North Phoenix Baptist Church. (Conor Ralph/Reuters)
About 1,000 seats for the church service were made available to members of the public who signed up.
Tommy Espinoza, president and CEO of the Raza Development Fund, said the senator was truly a maverick.
'A true American hero'
He said that during McCain's first race for Senate, McCain called him to ask if he would co-chair his campaign. Espinoza said he responded, "You know I'm a Democrat," drawing laughs.
Espinoza, then head of Chicanos Por La Causa, says McCain told him they were friends and he wanted his help.
He mentioned McCain's work for comprehensive immigration reform and says he believed it cost him a presidential campaign.
The church's senior pastor Noe Garcia called McCain "a true American hero."
Outside the church, honour guard member Valentine Costalez praised McCain for championing the military during his Senate career.
"He's done so much for us," said Costalez, who stood watch earlier this week while McCain's body was at a funeral home.
At the church, a choir from the Jesuit-run Brophy College Preparatory school that two of McCain's sons attended was scheduled to sing Amazing Grace and Arizona.
The music chosen for the reception was Frank Sinatra's signature My Way, paying tribute to a man who became known for following his own path based on his personal principles.
The Arizona National Guard carries McCain's casket from the Arizona Capitol as it heads to the North Phoenix Baptist Church for a memorial service on Thursday. (Jae C. Hong/Associated Press)
McCain's survivors include his 106-year-old mother Roberta, who was not at the service on Thursday.
After Thursday's church service, a military aircraft was scheduled to take McCain's body back east to lie in state at the U.S. Capitol on Friday, a service at the Washington National Cathedral on Saturday, and burial at the U.S. Naval Academy in Annapolis, Md.
Former presidents George W. Bush and Barack Obama are expected to speak at the ceremony on Saturday.
Large public turnout
A motorcade took McCain's body along a 12-kilometre route from the state Capitol to the church.
During Wednesday's private service at the Capitol for family and friends, Cindy McCain pressed her face against her husband's coffin, and daughter Meghan McCain erupted in sobs.
McCain sons Doug, Jack and Jimmy, daughter Sidney and daughter-in-law Renee shook hands with some of those who paid their final respects.
The much smaller service at the Capitol was filled with affecting moments and demonstrations of deep respect for the statesman and navy pilot who was held prisoner by the North Vietnamese for 5½ years after being shot down over Hanoi.
Gov. Doug Ducey remembered McCain as "Arizona's favourite adopted son" on what would have been his 82nd birthday.
A portrait and a birthday balloon are left outside the Arizona State Capitol on Wednesday, which would have been McCain's 82nd birthday. (Brian Snyder/Reuters)
The Capitol was then opened to the public in the afternoon, allowing visitors to walk past the closed casket after waiting in line outside in temperatures that reached 40 C.
The McCain family said about 15,000 people came to pay their respects at the Capitol.