If U.S. and Canada sign trade deal after strong GDP growth, interest rates could rise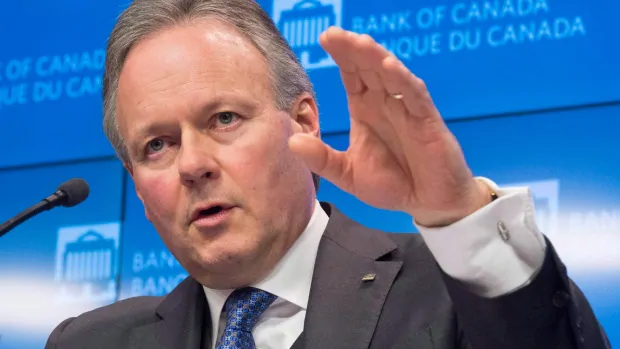 Canada's second-quarter growth figures on Thursday will provide the first glimpse of how the economy fared after the U.S. imposed tariffs on Canadian steel and aluminum imports in June.
While economists expect June's gross domestic product (GDP) reading on Thursday to show some impact from the tariffs, it won't be enough to derail the robust growth that the economy clocked in the three months from April to June.
Second-quarter growth is expected to come in at an annualized rate of 3.1 per cent, according to a Bloomberg poll of economists.
That's more than double the pace of 1.3 per cent annualized growth in the first quarter of this year.
If trade negotiations between Canada and the U.S. end in a deal soon, some economists say strong three per cent growth in the second quarter could be enough for the Bank of Canada to raise interest rates again as early as next week.
"If, and only if, NAFTA negotiations evolve into a deal in the next couple of weeks, expect the three per cent second-quarter growth rate to be enough for central bankers to raise rates another quarter-point in September," said Royce Mendes, senior economist at CIBC Capital Markets.
"Otherwise, we would need a notable upside surprise in GDP to make the case for September."
'Overshooting' growth
The Bank of Canada is forecasting second-quarter growth to come at 2.8 per cent, well below market consensus.
Meanwhile, the central bank has raised its policy interest rate four times since July of last year, with the last 0.25 percentage point hike coming just last month. It is set to decide on interest rates on Wednesday next week.
Many economists say they wouldn't be surprised if the quarterly GDP reading tomorrow does come in above what the market is expecting, because of the bounce in exports from rail delays earlier in the year and the harsh winter.
"One can't entirely rule that [a rate rise next week] out though — in the event of the fortuitous combination of a big upside surprise on GDP and a NAFTA deal by Friday," said Douglas Porter, chief economist at BMO Capital Markets.
Derek Holt, head of capital market economics at Scotiabank Economics, added that he is waiting to see how much growth will overshoot the Bank of Canada's projections.
"If the Bank of Canada is truly data dependent and is now getting growth overshooting its expectations in the context of better NAFTA progress, then why not hike in order to make up for having arguably fallen behind while transitory factors depressed growth earlier in the year only to witness a sharp rebound," Holt said.
Still, many think the central bank will tread cautiously next week even if strong growth strengthens the case for another rate hike this year.
James Marple, senior economist at TD Economics, is expecting second-quarter growth to be as strong as 3.5 per cent, but predicts "an October hike still remains the most likely, allowing the bank the opportunity to reinforce its view with its updated economic forecasts."