Hold the phone: Jack White's November tour will be a device-free affair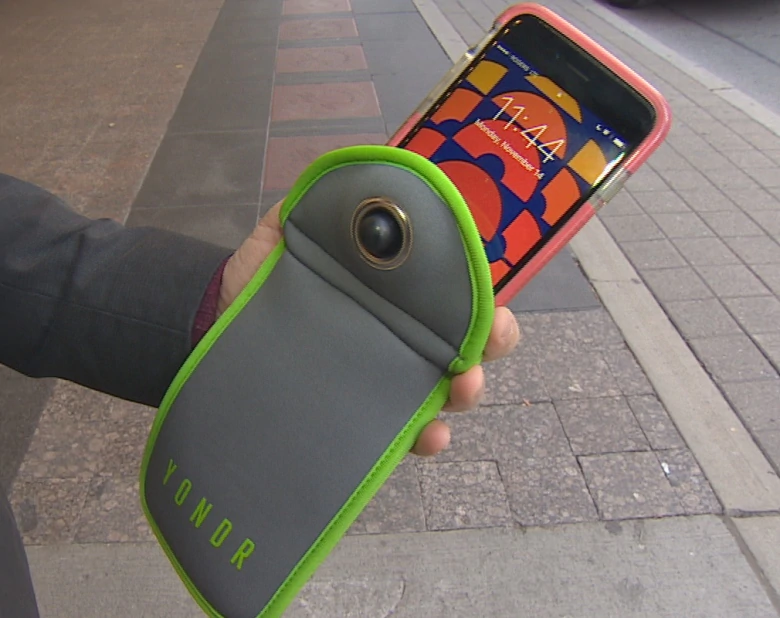 American rocker Jack White will kick off his Canadian tour in Edmonton on Nov. 2. But for the fans who want to see him, there will be one big string attached.
It's a no-phone show — which means no texting, no tweeting, no photos and no selfies.
"We think you'll enjoy looking up from your gadgets for a little while and experience music and our shared love of it IN PERSON," says the tour announcement, posted Monday morning on the Rogers Place website.
White is best known as lead singer and guitarist of the duo The White Stripes, but has also been involved with other projects including The Raconteurs, The Dead Weather and his solo career.
The nine-city Canadian leg of his Boarding House Reach world tour, which starts in Edmonton and ends Nov. 14 in Halifax, will require attendees to secure phones "and other photo or video-capturing gizmos" inside a lockable pouch that they will keep with them.
CBC's Eli Glasner demonstrates the Yondr cellphone-locking pouch in Toronto in November 2016. (CBC )
The Yondr pouch technology, developed in San Francisco, has been used by performers including comedian Dave Chappelle and musicians Alicia Keys, Shawn Mendes and Ariana Grande.
If fans need their phones during the show, they'll take them to a designated Phone Zone located in the lobby or concourse, where the pouches will be unlocked.
And for those fan who can't bear not being able to 'Instagram it,' official photos and video from the concert will be available on White's website.
"Repost our photos and videos as much as you want and enjoy a phone-free, 100 per cent human experience," says the announcement.
A limited number of pre-sale tickets will be available to Third Man Records Vault members at 10 a.m. Tuesday. General ticket sales will begin on Friday at 10 a.m. through Ticketmaster.