Forward-thinking fashion: Edmonton designer wants to inspire and empower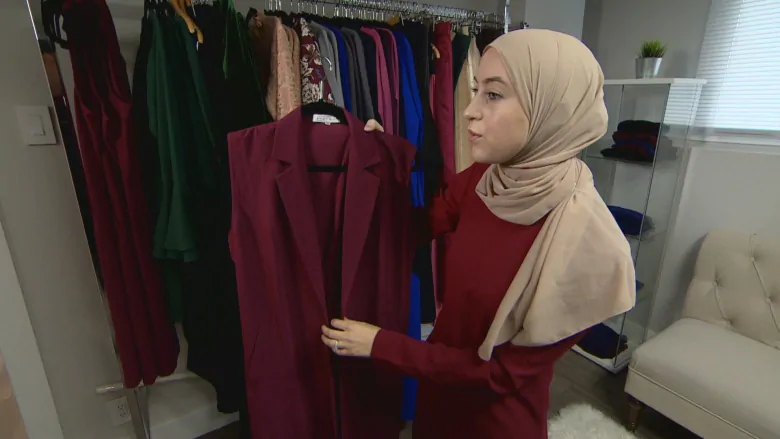 An Edmonton woman is tackling stigmas and stereotypes through clothing design.
Wedad Amiri promotes female empowerment and the normalization of mental illness, naming each of her pieces after an inspirational woman, including those who struggle with their mental health.
She owns Afflatus Hijab, an online store that sells modest evening and casual wear, originally geared toward Muslim women. Her designs have attracted so much attention that her work will be featured at the Maarkah New York Fashion Week in September.
Amiri started her business about four years ago, after growing tired of the lack of options for women who prefer to dress modestly.
"When we go to weddings and stuff, to get a long dress with sleeves is very hard to find," she said. "So I was buying these dresses, but I would have to take them in, alter them. It would cost about $500 near the end."
So, Amiri started designing her own clothes. She draws up full-length skirts and frocks in an array of on-trend colours and fabrics, and then sends the designs to a manufacturer.
What's in a name?
This vest is named after Edmonton activist Nakita Valerio. (CBC)
Amiri's first designs were named after strong Muslim women from around the world, like Ibtihaj Muhammad, the first American fencer to wear a hijab while competing in the Olympics.
"I just felt like we were given such a bad name in the media — we all look kind of the same: oppressed, no rights, our husbands have to do everything for us," she said. "So I wanted to change the narrative."
The naming convention has since expanded to include non-Muslim women, as Amiri said her designs are for all women. The pieces from a recent clothing line were named after Indigenous women.
Amiri's latest collection shifts direction slightly, focusing on lesser-known women. In this collection, she underlines another meaningful theme: mental health.
"Each piece is named after a woman who is struggling with their mental illness," Amiri said, noting the women are from Edmonton and Calgary.
"A lot of people are suffering alone, and I just really wanted to say it's OK to not be OK."
The eight designs highlight different illnesses, like addiction, anxiety and PTSD. The stories of the women who grapple with those illnesses are told alongside photos of the clothing on the company's website and social media.
Currently, Amiri is preparing for her New York debut.
"It's just a cool experience," she said. "I'm humbled that they asked me to come because [it's] nothing that I would've imagined doing."
The company sells a variety of hijabs. (CBC)