Faulty extension cord caused fire at Edmonton office building leased by province, fire department says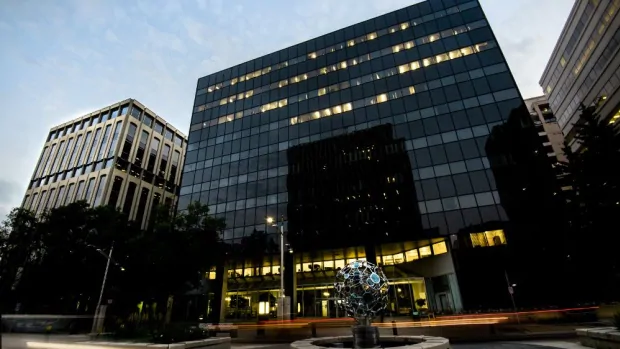 A faulty extension cord caused a July fire in a downtown Edmonton office building that knocked out numerous online systems and displaced hundreds of Alberta government employees, says Edmonton Fire Rescue Services.
The 465 government employees who were moved to new offices after the fire likely won't be back in the building until mid-November, Environment and Parks spokesperson Matt Dykstra said Tuesday.
"Right now, there are still safety risks for entering the building, as the air conditioning is still not functioning, meaning ambient air temperatures are 35 C to 44 C," Dykstra said in a text message.
The July 30 fire at the Forestry Building, at 9920 108th St., was contained to the 11th floor mechanical room, Dykstra said.
The building, leased by the Alberta government, housed a series of government computer servers used by the Alberta Energy Regulator (AER) and the energy and parks departments.
Because of damage to the servers, many online applications used by industry for the AER had to be switched to manual processing.
The AER said in some cases the switch resulted in two-week delays in application processing.
Some services restored
"The data centre has been retrieved and is being restored currently," Dykstra said.
Some systems have already been put back online, and others are being tested this week, he said.
At the time of the fire, Dykstra said the fire rendered the environment and parks department server "non-operational."
He said then the public wouldn't notice any delays. But a notice still posted on the environment and parks department website said telephone calls to the information centre will not be answered, and all inquiries must be made by email.
The cost of fire damage was estimated at $55,000, said Edmonton Fire Rescue Services spokesperson Maya Filipovic.
That figure does not include the cost of moving employees to a new location, or setting up alternate systems for filing applications to the AER.