Ensign Energy Services makes $470M hostile takeover offer for Trinidad Drilling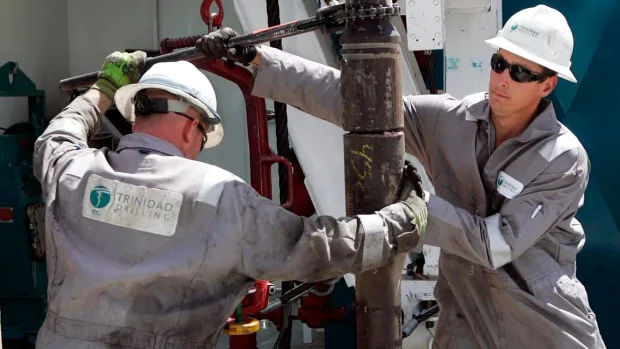 Shares in Calgary-based Trinidad Drilling Ltd. leaped by almost 15 per cent Monday morning after cross-town rival Ensign Energy Services Inc. announced it would make a hostile $470-million cash takeover bid.
The offer of $1.68 per share in cash comes less than two weeks after Trinidad announced it would abandon a strategic alternatives process that included considering a corporate sale or asset sales to reduce debt and attract investors.
Including Trinidad's estimated net debt of $477 million as of June 30, the total value of the takeover would be about $947 million, Ensign said in a news release.
Ensign, which already owns 9.8 per cent of Trinidad's shares, said it tried to discuss a deal after Trinidad announced ending its review on Aug. 1, but the board had unacceptable conditions, including the signing of a confidentiality agreement with a lengthy standstill provision.
"We strongly believe that the Trinidad board and management of Trinidad, as fiduciaries of the company, should have engaged with Ensign, without a standstill, to pursue an attractive opportunity to surface shareholder value," the statement reads.
"The Trinidad board's failure to fully engage with Ensign has led us to bring the offer directly to you, the shareholders and true owners of the company."
Ensign calls for bid period to be shortened to 35 days
Ensign called on the Trinidad board to allow the bid period to be shortened from the legal minimum of 105 days to 35 days, pointing out a higher bid is unlikely to emerge given that the target company's review found no viable alternatives.
Full details are to be included in the formal offer to be filed with regulators within the next two weeks, it said.
Trinidad executives did not immediately respond to a request for comment on the offer.
On Monday morning, Trinidad shares rose 22 cents to $1.73. Their five-year-high close of $12.75 was set in June 2014.
In a research note after Trinidad halted its review and adopted a five-year plan instead, analyst Ian Gillies of GMP FirstEnergy Capital said the news was negative and would likely result in it continuing to trade at a discount to other drilling companies.
"We appreciate the company's five-year plan but believe the oilfield services business cycle could ultimately derail its goals," he wrote.
"We are disappointed with this outcome given our view that consolidation remains a key tenet of a healthier oilfield services market in North America."
Both drilling companies have Canadian, U.S. and international operations but Ensign is much larger.
In the second quarter ended June 30, traditionally a slow period for Canadian drillers due to the melting landscape, Trinidad reported a loss of about $12 million on revenue of about $130 million, compared with a loss of about $5.6 million on revenue of $101 million in the year-earlier period.
Ensign posted a net loss of $37 million on revenue of $263 million, versus a loss of $33 million on $232 million in revenue.