Edmonton Soccer Dome set to become biggest indoor facility in Canada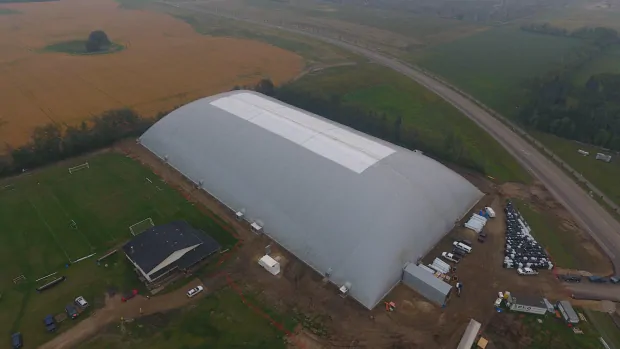 Driving into Edmonton from the south, off to the east past the big oil derrick you can see the top of a massive dome.
It's the country's largest indoor soccer facility, and already has the city's soccer community buzzing.
"It's finally up, and you can see it from most places in the city, said Edmonton Soccer Dome general manager Antony Bent. "We're so excited to get going. We're just weeks from opening now."
This place is massive!! <a href="https://twitter.com/YEGSoccerDome?ref_src=twsrc%5Etfw">@YEGSoccerDome</a> <a href="https://twitter.com/hashtag/soccer?src=hash&amp;ref_src=twsrc%5Etfw">#soccer</a> <a href="https://twitter.com/hashtag/yeg?src=hash&amp;ref_src=twsrc%5Etfw">#yeg</a> <a href="https://twitter.com/hashtag/gamechanger?src=hash&amp;ref_src=twsrc%5Etfw">#gamechanger</a> <a href="https://t.co/EAbTPMP4HN">pic.twitter.com/EAbTPMP4HN</a>

&mdash;@MinDhariwal
Facility cost $7 million
It cost $7 million to build the dome, with just over $2 million of that coming from the city and the province.
"The turf guys are finishing up and the lighting is going in, and then just a few red-tape things with the city and we're ready to go," Bent said.
The dome was shipped to Edmonton from Arizona in 10 sections and assembled at the site.
It was inflated on Aug. 16, and is air conditioned and capable of handling Edmonton's bitter winters.
The state-of-the-art CORE turf comes from a Quebec company called FieldTurf.[embedded content]
"It's the most realistic turf to play on," said Bent. "The bounce is like a real grass. On the old-style turf, the bounce would be a little off. The rubber crumb would be awkward. But this is the best there is right now."
135,000 square feet of space
The dome covers 135,000 square feet of space and reaches a height of 84 feet. The fields inside are each 500 feet by 175 feet, which allows four games of seven-on-seven soccer to be played at the same time.
"The leagues that play non-boarded soccer were limited to two fields," said Kevin Poissant, board member of the Edmonton Scottish Society, the group that owns the facility.
"We've now increased that inventory 200 per cent. We'll have four fields in play, so the inventory in Edmonton moves from two pitches to six. It's going to allow more league play in a traditional non-boarded environment."
Poissant said the dome offers an opportunity for teams in other sports to train during winter months.
"Certainly on the field sports side, this is not just a soccer dome," he said. "It's a team-sport facility. We hope to see rugby teams, and field lacrosse and cricket. There's so many sports that could benefit from a facility like this."
Teams have already reached out to the society, he said, asking when they can get in.