Edmonton hoping to move past traditional homeless housing model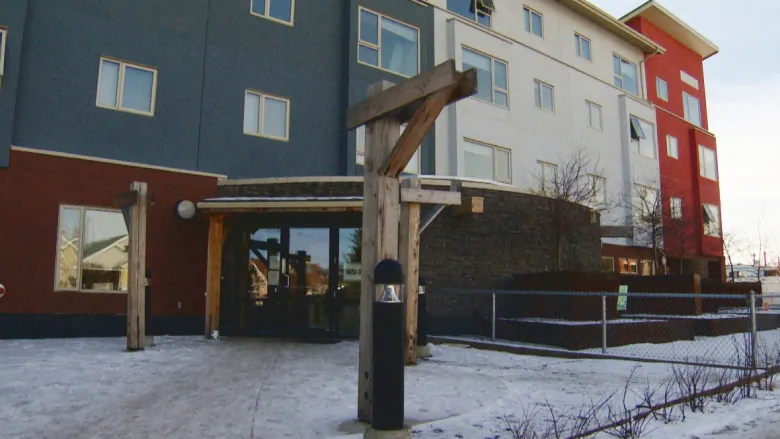 The city is pushing for more permanent supportive housing for Edmonton's homeless population — a move that could change the city's current model, which concentrates resources for vulnerable people in the downtown core.
At a council meeting Tuesday, Ward 6 Coun. Scott McKeen said supportive housing is his top priority. He wants to see the model spread throughout the city and give vulnerable people a more humane housing experience.
The development of supportive housing makes fiscal sense, McKeen said, noting the city spends more than $1 million a year on cleaning up homeless camps. He also highlighted how it costs money for first responders to help homeless people in crisis.
He said Ambrose Place, a supportive housing facility in the McCauley neighbourhood, estimates it saves taxpayers $1 million a year.
"It's not a cheap place to build or to run, but it's still saving money," McKeen said, noting the facility has space for about 60 people.
Ambrose Place in the McCauley neighbourhood provides permanent housing for people with substance abuse issues. (CBC)
Mayor Don Iveson said supportive housing gives people a more dignified way to live, as some facilities offer programs that focus on harm reduction and addictions support, while others incorporate Indigenous knowledge and medicine. He noted he's interested in seeing the city adopt a variety of supportive housing models.
"As their quality of life improves, their interactions with the justice system, the social disorder on the street, their healthcare interactions all reduce," Iveson said.
"There is a better way. We've seen that. All the evidence supports it. That's why we continue to push so strongly for the development of more permanent supportive housing."
Iveson noted there will probably always be a need for emergency shelters, however.
"But we've gone from relying on it as sort of a short-term thing to [where] it has become a real crutch for lots of people whose needs would be better served through permanent supportive housing," he said.
Short-term housing project continues
An architectural drawing of the proposed redevelopment of the Herb Jamieson Centre. (Hope Mission)
Despite the city's desire to move away from the old model, staff at Hope Mission's Herb Jamieson shelter are planning on rebuilding their facility on its downtown site 101st Street and 105A Avenue.
Joel Nikkel, Hope Mission's director of development, said community members have been supportive of the project, helping raise $6 million.
He said it makes sense to rebuild the emergency shelter in the centre of the city.
"This is the place in the city that's zoned for a shelter," he said. "A shelter has been here since the 1950s. We've got an old, broken-down building that's unsafe. It needs to be rebuilt."
The shelter isn't wheelchair accessible, and has closed-off dorms that pose a safety threat for staff and clients, as they're difficult to supervise.
A dorm in the Herb Jamieson shelter. (Dave Bajer/CBC)
Nikkel said the new open-concept building will have a capacity of 400 — the same as the current shelter, but would offer new services, like an on-site psychiatrist, doctor and medical clinic.
"It's really a shelter that can provide for people in need, and it's really what our city needs for the next generation," he said.
It will cost $16 million to construct the new shelter, Nikkel said. Hope Mission plans on raising $8 million, and is asking the province to match that.
"As soon as we hear from them, we're ready to begin moving forward. We have a development permit, we have the community support raised," he said.
"And we really feel like this is a critical and essential project for our city. This is something that needs to happen and now's the right time to do it."