Edmonton homeowner fears ant infestation could leave her bankrupt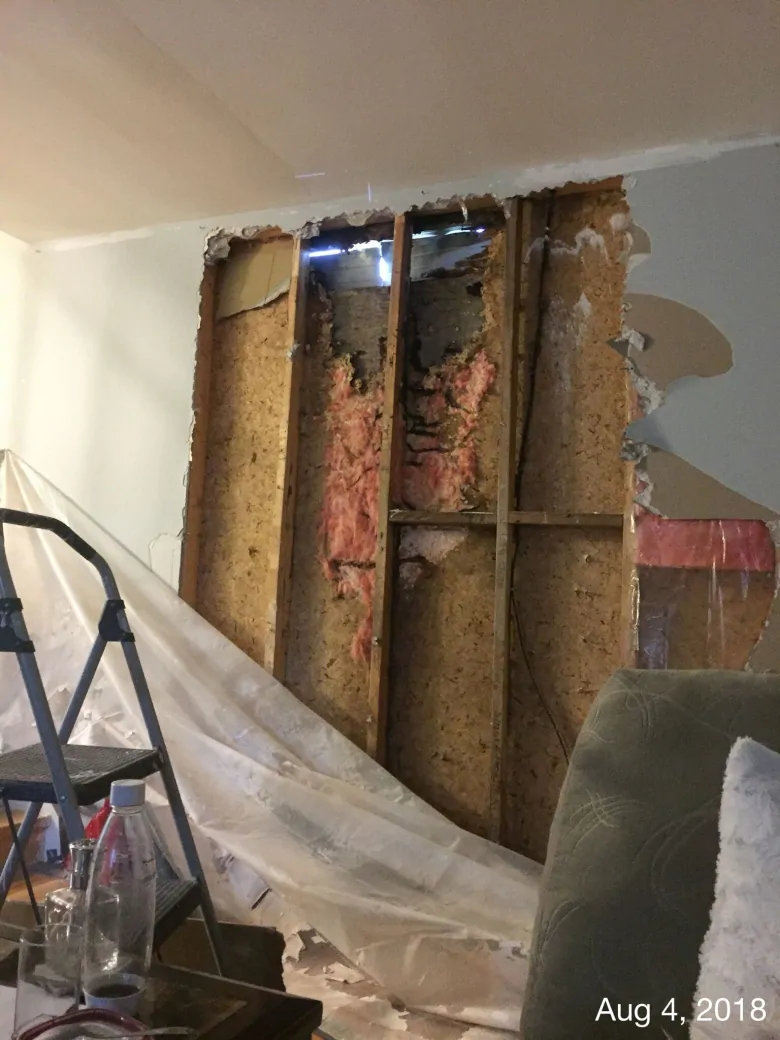 An Edmonton woman fears she could go bankrupt less than two years after buying her first home, which passed inspection but has been plagued by water damage and a massive infestation of carpenter ants.
Karla Touet, 33, took possession of her Mill Woods house in October 2016. After years of saving for a down payment, she was thrilled to find the three-bedroom, two-bathroom house built in 1976, across the street from a school.
"It was way more than enough space for me, it was within my price range," she said. "It needed some work eventually, cosmetically, which is fine. But it looked like a really good investment."
The problems started two months ago, when Touet, who owns a painting business, took the baseboards off to paint the living room. She found an ant. The next day, three more came out of the nail hole in the wall.
Raid insect killer didn't seem to help, and when she found ants in the basement she called an exterminator. After spraying the entire interior and exterior of the house the exterminator told her to find the source of the wet wood, where carpenter ants typically burrow.
One night, Touet took a hammer to a wall, broke through the vapour barrier and looked behind.
"It smelled musty … I could smell mould. There were tons of dead ants down on the lower part of the framing. As I peeled back the insulation, I could see a lot of live ants. Thousands of live ants."
Near the top of the wall she found rotten wood blackened by water damage. In and around that area was the colony — "tens of thousands" of ants that had demolished the insulation and burrowed holes through the plywood and frame, leaving mounds of dust and wood shavings inside the wall.
It was sold to me as updated property with new windows, fresh paint, flagstone patio, newer kitchen and all these features to say this is a great home that's been upgraded. Never did I know I'd be walking into a lemon.– Karla Touet
Over the next few weeks, Touet ​stripped off the exterior siding and found more water damage throughout the house. All of the exterior plywood has water damage and has to be removed, all of the insulation has to be replaced, and the house has to have new siding put on before winter. The damage is so extensive she believes it's the result of water leaking over the span of decades.
The drywall mud has been found to contain asbestos and also has to be removed.
Worried about potential health risks, Touet is currently sleeping on her couch after finding water damage under new carpet in her bedroom.
The cost she has been quoted for repairs to make her home livable for winter is almost $100,000 — money Touet said she doesn't have. As a first-time home buyer and business owner with no equity in the home, she said she can't get a home improvement loan. She was told if she was married, the second income could help her qualify. Her insurance will not cover the damage, because it was deemed a pre-existing problem.
Lawyers have told Touet one of her only options is to foreclose the home and file for bankruptcy.
"That is terrifying," she said. "I am in my early 30s. I have a business. I haven't overspent, I don't live beyond my means, and I am being advised to file bankruptcy. It's so scary.
"It was sold to me as updated property with new windows, fresh paint, flagstone patio, newer kitchen and all these features to say this is a great home that's been upgraded. Never did I know I'd be walking into a lemon."
The wall of Touet's living room, where she first discovered the colony of ants. (Supplied/Karla Touet)
Inspector says there was no indication of damage
An inspection done by Richard Anderson the month before Touet took possession found no water damage and nothing significantly wrong with the home — just minor issues and some previous water damage on one bathroom ceiling.
Anderson, a full-time house inspector since 2011, said there was nothing that raised red flags during the inspection. Infrared testing did not show any moisture, he said, and there was no fresh paint or other indications that modifications had been made to cover existing problems. He said he did indicate that some stucco was missing, and told Touet it had to be sealed.
He doesn't think the water damage has been there as long as Touet said, because when he inspected the basement he didn't see it.
He said an inspector cannot look inside walls or pursue more invasive measures unless an initial inspection shows a significant problem.
"If there's no indication of damage, that's about the extent of my inspection," he said. "I can't start pulling things apart or scouring through the walls.
"If you can't see it, you can't see it. We're not allowed to go in there and start probing."
Anderson said Touet's best bet would be to pursue the previous owner to determine whether the owner was aware of the water damage, and took steps to conceal it or avoid repairing it before selling.
If Touet can prove the problems were happening with the previous owner, that owner's insurance company could be liable for fixing the damage, he said.
"This was something that she did everything right," he said. "I feel terrible for her. But at the end of the day, I've done everything I could. I did everything to the means of my tools and eyesight and training."
A second inspection of the home was done by RGC Inspections Inc. in early August, when some interior and exterior areas of the home had been uncovered. It found a negative slope toward the house and compromised seals around all windows and doors.
That inspection report said the extent of the damage by the carpenter ants happened over a number of years.
Karla Touet's friends have been helping her rip siding off her house. She's uncovered extensive mould, water and ant damage throughout the house. (Supplied/Karla Touet)
'She's pretty much done all she can do'
Ben Pond of Tyben Construction Corp. has been consulting with Touet on the damage, which he said is "absolutely not normal."
"Walking along the second story, we noticed there was a lot of water damage about a foot to 16 inches in from the exterior wall, which means the water travelled underneath the plates in the wall, along the top of the plywood and sat there for some time, leaving major water damage. So that was a major alarm for me."
Pond said many of the joists are rotten, so there isn't much supporting the outside walls or the weight of the house.
T.J. Jomha, a lawyer in Edmonton, said Touet could file a lawsuit against the previous homeowner and the first inspector. But she would have to prove the previous owner knew about the ant infestation and water damage, which would have affected the property's value, and chose not to disclose it. She'd have to prove the inspector was negligent and ought to have known as well.
The more pressing issue is making sure there's a roof over my head. But I don't know if that's even possible.– Karla Touet
According to Service Alberta, home inspectors in Alberta are regulated and must have $1 million insurance policy in the event a consumer suffers financial loss due to an improper inspection.
It's tough to prove, said Jomha said, who thinks there's a "50/50" chance a homeowner could win in court, if the case gets to that point.
Jomha said Touet could also try calling pest control companies to find out whether they have visited the home before.
"It comes down to evidence," he said. "She's pretty much done all she can do."
But Touet doesn't have much money left, and she's racing against time. She is trying to decide whether to spend money on legal fees or on sealing her home for winter. Legal proceedings could take years, but she needs a safe home to live in before first snowfall.
She has started a GoFundMe page in a last-ditch attempt to cover some costs.
"At this point, the more pressing issue is making sure there's a roof over my head," she said. "But I don't know if that's even possible, at this point.
"Hearing the updated quote, it's a really hard pill to swallow."
Tracks from carpenter ants in the side of Touet's home. (Supplied/Karla Touet)