Edmonton Catholic, public schools expand shared busing program to save money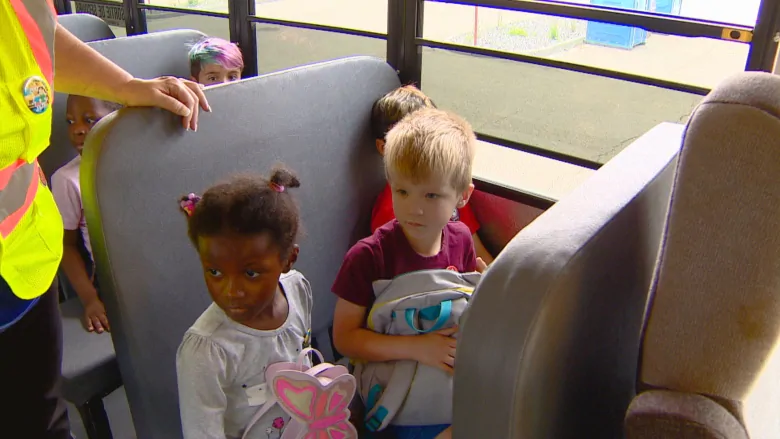 Edmonton Catholic and public schools will expand their shared bus program in September, after conversations about creating an independent transportation authority failed to come to fruition.
Michelle Draper, chair of Edmonton Public Schools, said the proposed authority would have managed busing for both school boards.
"We wanted to see if there were ways to make [transportation] less costly, and it seemed logical to explore a partnership with Edmonton Catholic," she said.
"It was decided though that from Edmonton Catholic that they weren't … prepared to go forward with that model."
Students from Edmonton public and Catholic schools won't be on the shared buses at the same time. (Dave Bajer/CBC)
Edmonton Catholic school board chair Laura Thibert said bringing the two transportation departments together would have taken too much time and money. She said startup costs for the Catholic district would have been about $1 million — something parents didn't approve of.
"So we wanted to be able to do an informal agreement where the cost savings could be starting right now," Thibert said, noting that's why the boards are expanding the shared busing model.
Draper said, however, the cost savings associated with the shared busing system will be less than those associated with a joint transportation agency. A feasibility study from 2014 estimated the agency could have saved the boards about $2.5 million a year. Edmonton Public Schools estimates the shared routes for the 2018-19 school year will save about $600,000.
16 additional shared routes
The shared buses pick up Catholic and public school kids on separate trips, meaning students from different districts use the same buses, but not at the same time.
Debra Hunter, director of student transportation at Edmonton Catholic Schools, said 16 routes will be added to the shared system, which has been in use for a few years. Last school year, the boards shared nine buses.
Hunter noted it costs about $60,000 a year to operate a yellow school bus. By sharing 16 additional routes, the boards eliminate the cost of operating eight buses.
Debra Hunter, director of student transportation at Edmonton Catholic Schools, says 16 routes will be added to the shared bus system. (Dave Bajer/CBC)
Putting Catholic and public students on the same bus isn't currently possible, Hunter said, as the boards don't have a shared computer system for rider data, like student names and guardian contact information.
"We're not set up to house data from both school boards in one system. And there would be a startup cost associated with that," she said. "This way, we do not incur any startup costs. We're able to do it independently and achieve the cost savings."
Geoff Holmes, manager of student transportation for Edmonton Public Schools, noted some schools will have to adjust their start times by a few minutes to accommodate the shared routes.
"This is something that we could do that allows us to use our resources efficiently, and we could build on a model that we already have been using for several years," he said.