'Disjointed' communication hinders B.C. First Nations in wildfire fight, leaders say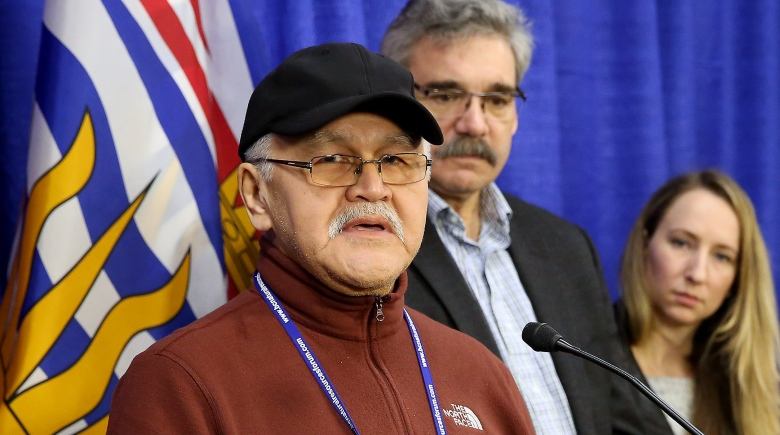 A fragmented system that makes British Columbia responsible for regional districts but gives the federal government authority for First Nations is hampering Indigenous groups in the wildfire fight, community leaders say.
Miranda Louie of the Nadleh Whut'en in central B.C. said the regional district has been calling Chief Larry Nooski to let him know when it issues an evacuation order or alert. That can leave band members scrambling to knock on doors to tell residents to get out.
"Larry should have been at the meeting where they called the order, not a phone call away," said Louie, who handles communications for the band. "We really need to be put at the table with everyone else, especially with the planning."
The province's largest blaze has charred an area from Fraser Lake to Fort St. James, including some buildings at a Nadleh Whut'en camp. The wildfire service issued a warning of extreme fire behaviour for the blaze on Friday. The warning can be issued when high heat and a lack of rain combine to strip humidity from the air.
Chief Larry Nooski friom Nadleh Whut'en First Nation pictured at a news conference on Feb. 2, 2017. Community leaders say Nooski and others should 'be at the table' as the regional district makes decisions on evacuation alerts and orders as a result of wildfires. (Province of B.C.)
'It's not the perfect way to do things'
More than 550 wildfires are burning in B.C. and crews were bracing for wind and dry lightning. Residents of thousands of properties remained out of their homes, and thousands more were told to be prepared to leave. The province announced Friday it would match donations to the Red Cross for people affected by the wildfires.
Bill Miller, chairman of the Bulkley-Nechako Regional District, said he agrees with the First Nation that the system is "disjointed."
"It's tough for us, too," he said. "It's a bit of a screwed-up system.… We should be all at the same table. The only way that we've made it work at all is those phone calls.
"It's not good. It's not the perfect way to do things."
Bill Miller, the regional district board chair for the Interior's Bulkley-Nechako region, acknowledged the communication system isn't 'good.' (Andrew Kurjata/CBC)
Band councils, based on advice from the provincial wildfire service and regional districts, are responsible for declaring their own evacuation orders and alerts for members on reserve land, said John Rustad, a former Indigenous relations minister.
The key is the advice, which Nooski felt he didn't receive, said Rustad, who represents the area in the provincial legislature.
Rustad said Nooski called him "in a panic" on Monday night because the chief had gone to the community's cultural camp and found no security despite the fire being about three kilometres away. Nooski made sure people left, and since then the fire has destroyed some structures there.
"He expressed concern that he had not been kept informed with regard to the current status [of the fire]," Rustad said.
Cattle run on a ranch as the Shovel Lake wildfire burns in the distance sending a massive cloud of smoke into the air near Fort St. James on Friday. (Darryl Dyck/Canadian Press)
The province heard concerns from some First Nations about communication and reached out to them, including the Nadleh Whut'en, said Forests Ministry spokesperson Dawn Makarowski in an email.
The Wildfire Service is doing risk assessments with First Nations, she added.
"First Nations have extensive knowledge and a deep connection to the forests, waters and lands of their territories. We are working to include this wisdom and experience in our approach to planning around — and responding to — wildfires."
The Shovel Fire as seen near Stern Lake, B.C., on Aug. 13. (Submitted by Brian Robinson)
Forests Minister Doug Donaldson said he was on his way Friday afternoon to meet with Nooski and had spoken to him by phone on Thursday.
"[It] feels like they're looped into the communications quite well now," he said.
Louie, who is speaking for the chief while he deals with the fire crisis, said the First Nation met with provincial staff on Thursday.
"The communication lines have been opened now, but they should have been opened two weeks ago," she said.
'Unfairly left to their own devices'
During last year's worst wildfire season in B.C., Grand Chief Ed John of the First Nations Summit called on the federal government to create a $200-million emergency preparedness and response fund for Indigenous communities in the province.
He said the fund should support First Nations for at least the next four years to create emergency response plans, buy equipment and train members.
The province has funded municipalities and regional districts to prepare for wildfires and the federal government must do the same for First Nations, he said.
"First Nations communities feel isolated and have largely been unfairly left to their own devices," he said in his proposal.
Grand Chief Ed John said First Nations had been 'unfairly' left to fend for themselves amid last year's worst wildfire season in B.C., and called on the federal government to create a $200-million emergency preparedness and response fund for Indigenous communities in the province. (CBC)
John said the federal government declined his request last year, so he is reissuing it.
Martine Stevens, a spokesperson for Indigenous Services Canada, said the federal government and B.C. have a 10-year, $29.6 million bilateral agreement to deliver emergency management support to on-reserve First Nations, allowing them to receive comparable support to local authorities.
Canada and B.C. are working to develop a provincewide approach to emergency management that recognizes First Nations as full partners, she said in an email.
"We recognize that First Nations face different risks and vulnerabilities with respect to emergencies and last year's events highlighted several regrettable gaps in emergency response."