Clarke Stadium turf war reaches a truce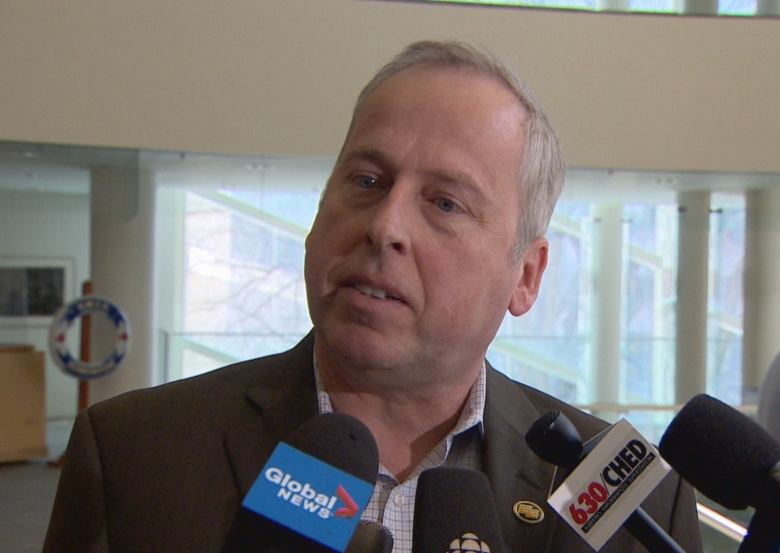 A turf war over the future of Clarke Stadium has struck a truce.
FC Edmonton said Clarke Stadium will remain a shared-use facility when the inaugural Canadian Premier League seasons kicks off next spring.
"The reality is we need to have all the different sports succeeding and football has a need to be there," said Tom Fath, owner of FC Edmonton, after speaking to the community and public services committee on Wednesday.
The club initially wanted a dedicated soccer facility, with Clarke Stadium in consideration back in April. That made Edmonton Eskimos president Len Rhodes uneasy, since the Esks practice at the field when Commonwealth Stadium is booked for events or undergoing maintenance.
"That was problematic, not only for the Edmonton Eskimos, but for all of amateur football," Rhodes said. "It's become clear that they are now open to a multi-purpose and multi-use facility."
The city will have to upgrade washroom facilities, build more broadcast areas and install around 3,000 more seats at Clarke Stadium to meet the Canadian Premier League stadium requirements.
Eskimos President Len Rhodes said he's been assured Clarke Stadium will remain a shared-use facility. (CBC)
Edmonton football teams, including the Esks, were concerned the new bleachers would impinge on the endzone, around where the goal line would be on the soccer pitch. Those seats would make it near impossible to host a football practice or game, pushing out local high school and junior leagues as well.
But Rhodes said he's been assured that FC Edmonton will accommodate the needs of local football, while also working with teams around scheduling concerns.
"So for us, check and check, so far so good," Rhodes said. "As long as they stay on that course we'll be fine."
With soccer season just eight months away, the Canadian Premier League has also given FC Edmonton more time to get the stadium up to its standards. The washrooms will have to meet their requirements, but the additional seats, and potentially other big ticket items such as upgraded concessions, can wait at least until the 2020 season.
City staff said washroom trailers might be one potential low cost solution to meet stadium needs this season.
The suite of upgrades in upcoming seasons will be a significant cost to the city, which runs and manages the stadium. City staff are expected to lay out the costs this fall when council begins its consideration of the 2019-2022 budget.
"A lot of the things they're asking for is just things we need to succeed going forward," Fath said.
The league requires each stadium to have a 7,000 seat capacity — a requirement based on the projected cost of running a professional team. FC Edmonton drew 3,400 people to Clarke Field in 2017, where they played for six years in the North American Soccer League.
Tom Fath with FC Edmonton said not all the upgrades the Canadian Premier League requires at Clarke Stadium will have to be in place when the season kicks off in April 2019. (CBC)
The team folded last fall because of a lack of fans, but the club is hoping the excitement of an exclusively Canadian league and a budding intraprovincial rivalry with Calgary will fill the stands.
"It has been difficult to engage and get our fans riled up and hate the team that comes in from Puerto Rico or San Francisco," club general manager Jay Ball told the committee. "It's easier for us to get our fans riled up and hate the team that comes in from Calgary."