Bank of Canada governor has eye on NAFTA talks as he weighs when to raise rates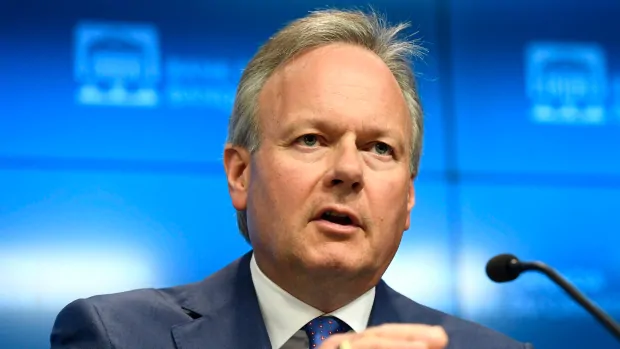 Bank of Canada governor Stephen Poloz says he still sees rate hikes ahead for Canada as the U.S. tightens its monetary policy, but a lot depends on economic data over the coming months and the outcome of NAFTA talks.
The U.S. Fed is expected to increase its interest rates in September, and may do so again in December, putting pressure on the Bank of Canada to follow. If rates go up in the U.S., the greenback soars and the loonie suffers.
The Bank of Canada last raised its benchmark interest rate in July, a month after the Fed raised rates.
Poloz, who is attending the central bankers conference in Jackson Hole, Wyo., says he's wary of a number of factors in Canada that may mean he can't move in tandem with the U.S., including higher levels of debt here and Canada's reliance on trade.
The uncertainty over NAFTA and President Donald Trump's repeated threats to cancel the deal altogether are already having an impact on investment in Canada, he said.
"If I was deciding to invest, those are things that are five to 10 years out. For the last year [companies have] been telling us, 'I've been holding on for my investment 'or 'I'm considering expanding my Alabama plant instead of the one in Canada,'" Poloz said in a TV interview with CNBC.
"Those kinds of decisions last for a long time, so we've got a drag on investment that's already in place because of the uncertainty around NAFTA, not whether it's actually happening," he said.
Rate rise could be delayed by NAFTA uncertainty
Given that uncertainty, CIBC economist Avery Shenfeld says it's likely Poloz will wait to see whether a NAFTA deal is struck before raising rates in September.
Some observers believe the Bank of Canada will move in September, given rising inflation and strong economic numbers.
"It would be a low risk strategy to wait until October if the relevant news is not at hand when the bank sets rates in September," Shenfeld said.
Poloz said if the NAFTA deal is cancelled or revamped in a way negative to Canada, the central bank would have to watch how the economy reacts before deciding whether to continue raising rates.
However, he expressed optimism that a deal would eventually be signed.