Banff restaurant that employed Jasper crash victims thanks supporters, first responders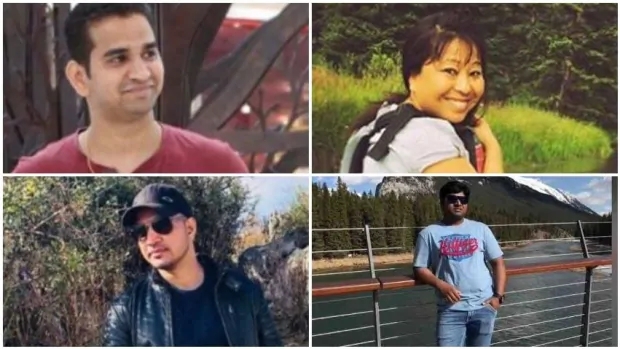 The restaurant that employed four people who were killed in a crash in Jasper National Park last week has released a statement thanking supporters.
Anand Singh Panwar, Pawan Kathiat, Ganesh Anala and Gelek Wangmo were among six people killed in a head-on collision on Highway 93 near Sunwapta Falls on Aug. 7.
They worked at the Masala Authentic Indian Cuisine restaurant in Banff.
Angela Dye Elkins of Benton, La., and her son-in-law, Nick Copeland, who lived in Texas, were also killed in the collision.
"We would like to thank everyone who had stopped by and help those people in their last moments, including the American family in other car," Rajinder Negi said in an emailed statement on behalf of the restaurant, friends of the victims from Banff, and the Uttarakhand Associations of Edmonton, Calgary and B.C.
Negi thanked the first responders and supporters from the Uttarakhand province in northern India. Negi said it will take years for the "close community" of restaurant staff to recover from the loss of their friends and colleagues.
"… the departed soul will be always remembered by friends and may God give them rest in Peace and help their friends and family to recover from this loss," the statement said.
Anala's body will be returned to his native Hyderabad in India. With the consent of family, Kathiat will be cremated in Edmonton and his remains scattered in India's Ganges River.
The resting place of the remains of Singh Panwar and Wangmo have yet to be determined by their families.