A purple frog speaking Mi'kmaq may be headed to a First Nation near you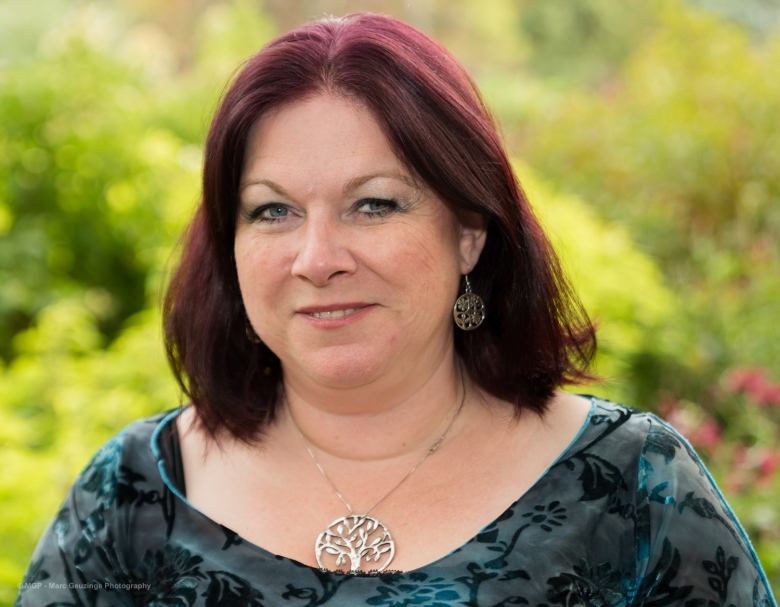 A new children's book by a Nova Scotia author will be released in both English and Mi'kmaq later this fall.
The Purple Frog was written by Angela Jefferys, illustrated by Toronto-based Mike Motz and translated into Mi'kmaq by Bernie Francis from Membertou First Nation.
When Jefferys was approached with the idea to have the her book translated, she said she was thrilled and she hopes to find a way to offer the book to schools in First Nations across Nova Scotia.
Angela Jefferys, author of the children's book, The Purple Frog (submitted by Angela Jefferys )
"It's about honouring what's unique about yourself," she said.
"The book is about a frog named Hubert. He's teased because he's very different from the other frogs… One day, a green spot shows up, the next day, another one, and he tries to hide it. He's afraid what's going to happen."
How he responds to the change is a surprise, said Jefferys.
When Francis came upon the book, he said he saw potential in it and the message appealed to him.
Mi'kmaw elder Bernie Francis of Membertou First Nation, N.S. (Nic Meloney/CBC)
"The story tries to demonstrate to children that they're perfectly OK the way they are, and for whatever reason they're 'different,' then they should accept that difference and be happy," said Francis.
The Mi'kmaq translation of the book is called Nɨsqnanamuksit sqolj.
"I grew up with stories as a kid, those legends that are still bouncing around in my head," he said.
"There was a coherence to them. I wanted to ensure that when this is read, it will have the same effect as the old stories had on me."
Lack of language resources
Ida Denny, principal of Eskasoni Immersion School in Cape Breton, N.S., said having early access to the Mi'kmaq language improves children's self esteem and cultural identity.
Visit the Mi'kmaq immersion school in Eskasoni
"You should see how proud they are when we have our plays. They are so proud of themselves to be able to perform, and they're not shy to perform … all in Mi'kmaw," said Denny.
When the immersion school first began, the staff had to make their own books in the Mi'kmaq language in their spare time.
"They weren't fancy, but it was something to be used by our students," said Denny.
Francis said if Mi'kmaq children learn their language while they're young, it's easier to retain.
"It's important that children learn the language early in life and learn it correctly," said Francis.
The book will be available Oct. 4.