18 Albertans honoured for their service to Canadian veterans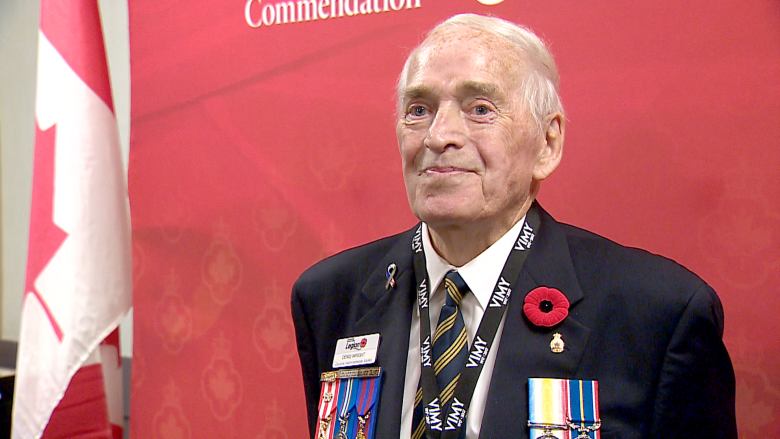 Eighteen Albertans were honoured with a commendation from Minister of Veterans Affairs Seamus O'Regan on Friday, to recognize their contributions to the care and well-being of veterans, and their remembrance of veterans' sacrifices.
Cedar Satanna, one of the honourees at the Calgary ceremony, trains service dogs to help veterans and first responders cope with PTSD, traumatic brain injury and mobility issues.
"I lost my partner and I lost my best friend to PTSD and it's heart-wrenching, it changed my life, it changed the life of my children, and I swore that if I could help I would never see anybody go through what our family went through," Santanna said.
She said it's incredibly motivating to see the service dogs help people regain their freedom and mobility.
"It's heartbreaking to see them go, but it's heartwarming to see them received with a new handler," she said.
Denis Wright was honoured for his service in the Coldstream Guards and his volunteer work in Calgary. (Mark Matulis/CBC)
Another recipient, Denis Wright, served in the Coldstream Guards in the British Army — guarding Buckingham Palace and the Tower of London.
In Calgary, he volunteers at Carewest Colonel Belcher, The Military Museum and is part of the honour guard that attends veterans' funerals.
He said he was shocked when he received an email notifying him that he would be honoured.
"I think it's a tremendous thing," said Wright.
The commendation is being given to a total of 98 veterans and non-veterans across Canada.
Kent Hehr also honoured
Also in attendance was MP Kent Hehr, who was recognized by O'Regan for his former role with the Veteran's Affairs portfolio.
It is an honour to serve with Minister <a href="https://twitter.com/SeamusORegan?ref_src=twsrc%5Etfw">@SeamusORegan</a> in Prime Minister <a href="https://twitter.com/JustinTrudeau?ref_src=twsrc%5Etfw">@JustinTrudeau</a>'s gov.<br><br>We are moving the veterans file in more ways than we can count &amp; are always focused on <a href="https://twitter.com/hashtag/Veteran?src=hash&amp;ref_src=twsrc%5Etfw">#Veteran</a> care, compassion, and respect.<br><br>I know this file is in good hands with Seamus. <a href="https://twitter.com/hashtag/VACSummit?src=hash&amp;ref_src=twsrc%5Etfw">#VACSummit</a> <a href="https://t.co/KPSPFTSoSl">pic.twitter.com/KPSPFTSoSl</a>

&mdash;@kenthehr
Hehr had a rocky tenure during his time as minister, before he was shuffled to minister of sport and persons with disabilities.
He resigned from cabinet earlier this year after allegations of sexual harassment were made against him.
With files from Colleen Underwood