White House denies that Trump said Russia no longer targeting U.S.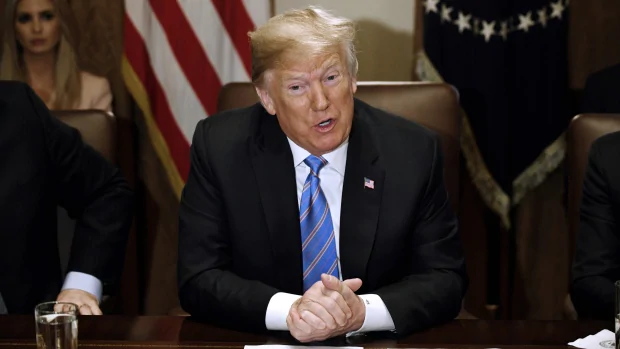 U.S. President Donald Trump said on Wednesday he doesn't believe Russia is still targeting the United States, contradicting U.S. intelligence assessments that Moscow is continuing its attempts to meddle in U.S. elections, but White House spokesperson Sarah Sanders later said his remark was misunderstood by the press.
On Tuesday, Trump tried to walk back comments in Helsinki that he believed Russian President Vladimir Putin over U.S. intelligence chiefs on Russian interference in the 2016 election, saying that he had misspoken a day earlier after a summit meeting with Putin in Helsinki.
Asked by a reporter on Wednesday if Russia was still targeting the United States, Trump shook his head and said, "No."
Cecilia Vega, the ABC News reporter who asked the question, said on Twitter that she believes the president heard her clearly.
Getting a lot of questions about my exchange with <a href="https://twitter.com/realDonaldTrump?ref_src=twsrc%5Etfw">@realDonaldTrump</a> today.<br>Yes, he was looking directly at me when he spoke.<br>Yes, I believe he heard me clearly. He answered two of my questions.<br>Here's the full exchange: <a href="https://t.co/F3QmDSFzpT">pic.twitter.com/F3QmDSFzpT</a>

&mdash;@CeciliaVega
U.S. intelligence officials have said Russian election interference efforts are continuing and now target the upcoming congressional elections in November.
Trump has been scrambling to undo the damage from his comments on Monday in which he gave credence to Putin's denials over the conclusions of American intelligence services.
"We're doing very well, probably as well as anybody has ever done with Russia. And there's been no president ever as tough as I have been on Russia," Trump told reporters before a cabinet meeting at the White House.
Speaking later Wednesday, Sanders told reporters that Trump was saying no to answering questions, not to whether Russia is still targeting the U.S. She said the administration is working to make sure Russia doesn't meddle in the 2018 midterm elections.
When asked whether there were concerns about the president's credibility given Trump's reversal of his remarks about Russia on Tuesday, Sanders was quick to note she wasn't clarifying anything on Wednesday.
"I'm interpreting what the president said, I'm not reversing it," Sanders said. "I was in the room as well and I didn't take it the way you did."
U.S. Director of National Intelligence Dan Coats told a congressional committee in February that he already had seen evidence Russia was targeting U.S. elections in November, when Republican control of the House of Representatives and Senate are at stake, plus a host of positions in state governments.
In rebutting Trump's dismissive comments about U.S. intelligence on Monday, Coats said in a statement, "We have been clear in our assessments of Russian meddling in the 2016 election and their ongoing, pervasive efforts to undermine our democracy."
In an interview with Jeff Glor of CBS Evening News, which was released in part Wednesday evening, Trump was asked whether he holds Putin personally responsible for election meddling in 2016.
"Well I would, because he's in charge of the country. Just like I consider myself to be responsible for things that happen in this country. So, certainly as the leader of a country you would have to hold him responsible, yes," Trump said.
The president was asked what he said to Putin, and he replied that he was "very strong on the fact that we can't have meddling."