Two people from Edmonton charged in Vancouver pipeline protest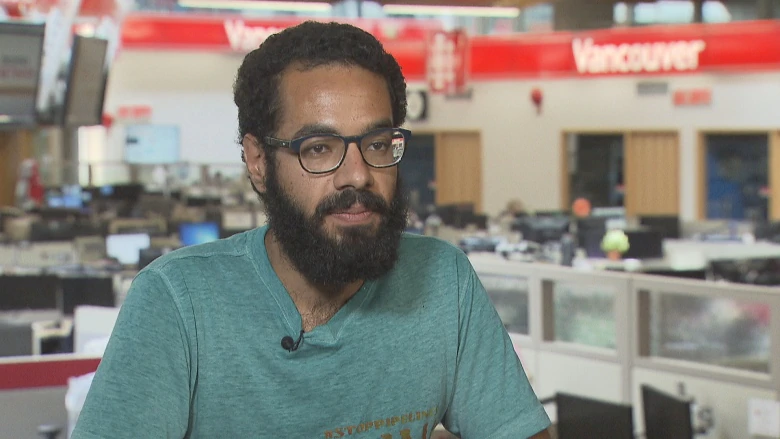 A man and a woman from Edmonton have been charged with mischief and jeopardizing the safety of a vessel after participating in a pipeline protest last week that involved dangling from the Ironworkers Memorial Bridge in Vancouver.
Emma Jackson and Farid Iskandar travelled to B.C. from Alberta to join the demonstration on July 3, on behalf of Climate Justice Edmonton.
The environmental and social justice group is affiliated with Greenpeace Canada, the organization behind the Vancouver protest.
"I really wanted to do something that was big, especially after the federal government's purchase of the Trans Mountain expansion," Iskandar said Sunday, during an interview at the CBC Vancouver newsroom.
Farid Iskandar is one of 12 protesters charged with mischief and jeopardizing the safety of a vessel. (CBC)
Iskandar is now being both praised and criticized on social media for his role in the protest, especially regarding his job. Iskandar's LinkedIn profile shows he is employed by the City of Edmonton as a social media coordinator.
Some are calling for him to be fired, questioning whether his views align with Edmontonians' economic interests.
When asked to confirm his position with the city, Iskandar declined to comment.
"I would rather not answer that," he said. "I really don't want to talk about that."
Farid Iskandar retweeted a reference to his employment, with some people calling for him to be fired. (Twitter)
Iskandar said Jackson has faced even more severe, often sexist backlash online.
"There are trolls online, everyone knows about them. Some of the comments are horrifying," he said.
An aerial blockade
Iskandar and Jackson scaled the Ironworkers Memorial Bridge at 2 a.m. on July 3 alongside 10 other people.
Once on the bridge, Jackson and six others strapped themselves into harnesses and descended below the span on cables. They then unfurled triangular banners by Indigenous artists.
The remaining protesters, including Iskandar, stayed on the bridge and acted as anchor supports.
"We formed kind of an aerial blockade to prevent a tanker from leaving the port," Iskandar said. "I feel it is my duty to take a part in this Indigenous-led resistance to this project."
The protest lasted more than 24 hours before RCMP emergency response teams intervened on July 4. At least one person was lowered manually by police that afternoon.
Others lowered themselves voluntarily into police boats waiting below.
Emma Jackson (left) was one of seven protesters dangling from the bridge. (Facebook)
The protesters are charged with one count each of mischief and jeopardizing a vessel, Iskandar said. They have also been ordered to stay at least 100 metres away from all Kinder Morgan sites, he added.
Iskander is scheduled to appear in court in October.
He said he participated in the protest after growing disappointed with the Alberta NDP, which he says has been forceful in its support of the Trans Mountain pipeline.
He volunteered for Rachel Notley's electoral campaign in 2015, Iskandar said, adding he can no longer support her government due to his strong environmental views.
"I don't have an electoral, political home at this time to make this fight so I have to do non-violent direct action in order to stand up for my beliefs."