Threat of auto tariffs prompts industry to warn Trump of dire consequences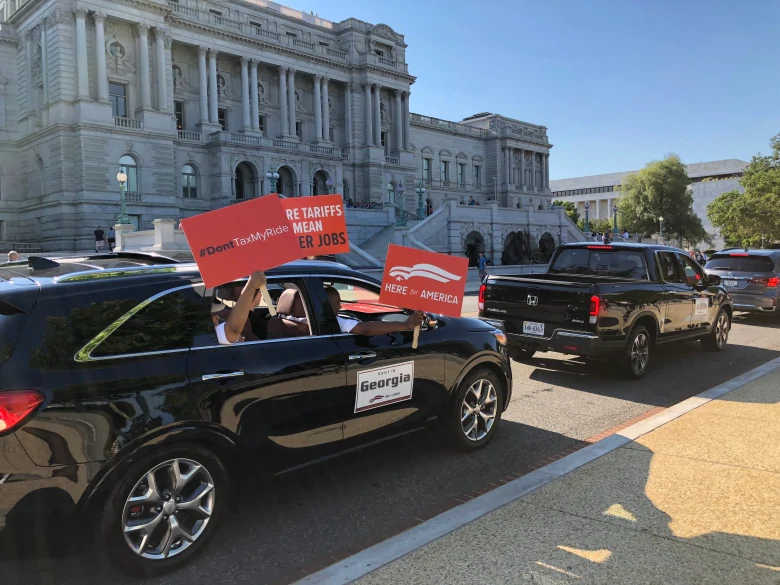 The world's automotive industry gathered in Washington with uncharacteristic unity, to deliver a singular message to American policymakers: If you start a trade war with tariffs on cars, you'll shoot yourself in the foot.
The issue that has been gaining steam for weeks came to a head Thursday as dozens of representatives from the industry around the world deliver their remarks at a hearing before the U.S. Commerce Department, which is mulling putting tariffs of up to 25 per cent on all vehicles imported into the U.S., including from Canada.
Some of the loudest voices came from the American auto industry — the companies and workers that the levies are ostensibly trying to protect.
"Broad restrictions such as tariffs on autos and auto parts will raise cost for our customers and their families," said Stuart Countess, president of Korean car-maker Kia's American arm.
"That's why we echo the plea, don't tax my ride," he said, to raucous cheers from those watching.
Representatives from American car makers were uncharacteristically united this week, showing up in Washington, D.C., to voice their opposition to car imports. (Sylvia Thomson/CBC)
He's not the only person in the industry who thinks along those lines.​
"There has not been a single company that I know of that has requested protection in the form of tariffs," said John Bozzella, president and CEO of the Association of Global Automakers, who has on hand to voice his concerns.
Far from being a threat to the U.S. economy, Bozzella said the globally diversified supply chain in the automotive sector is a boon for both car companies in the U.S. and consumers.
"There is not been a single company that I know of that has requested protection in the form of tariffs," he said. "I've been in this industry for over 20 years and have never seen this unity in this combined purpose to push back against these tariffs."
That's because American companies and consumers would bear the brunt of the punishment if the tariffs come to pass. The non-partisan think-tank the Centre for Automotive Research (CAR) put out a report this week outlining its projections for what tariffs would do, and the numbers paint a bleak picture.
If the administration makes good on its threat, it will reduce U.S. car demand by up to two million vehicles a year. More than 750,000 jobs would be lost and consumers can expect to pay an extra $4,400, on average, for a new car — regardless of where the vehicles are built.
A look at some of the numbers behind Canada's car industry and how much tariffs would hurt. (Scott Galley/CBC NEWS)
Those dire projections don't even include the damage that would come if interests in the rest of the world retaliates with tariffs of their own, something Canada's representatives made clear would happen.
"Should this investigation ultimately result in the application of tariffs on autos, Canada will once again be forced to respond in a proportional manner," Kirsten Hillman, Canada's deputy ambassador to the U.S., told lawmakers.
Canadian auto-parts maker Martinrea is based in Vaughan, Ont., but the company has facilities on both sides of the border and ships parts between its different locations constantly. That is why the company's chief financial officer says tariffs will not only be devastating, but also next to impossible to implement.
Vaughan, Ont.-based Martinrea makes auto parts, and the company components cross the border several times between plants in the U.S. and Canada. (Annie Rueter/CBC)
"The industry is so intertwined at this point in time," Fred Di Tosto said. "If you impose these tariffs it will have huge implications, we believe. Not just here in Canada, but in the U.S. and Mexico as well."
He called the idea of tariffs "a ridiculous proposition," and said the costs of implementing them "would not make any sense."
The president of Canada's automotive parts manufacturing association is even more blunt in his assessment.
"This is madness," Flavio Volpe said in an interview. "To charge American consumers a tax on goods they consume from Canada is akin to shooting yourself in the foot."