The Unforgettable World of Gravity Falls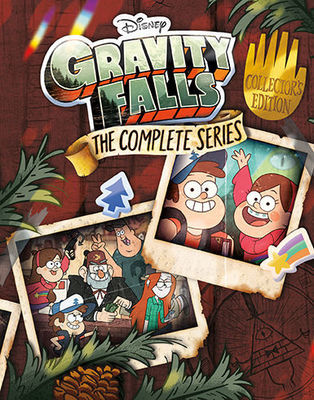 There are two kinds of people in the world—people who love "Gravity Falls" and those who haven't seen it yet. Alex Hirsch's brilliant animated show aired on Disney Channel from 2012 to 2016, producing only 40 episodes, but its popularity has maintained in the two years since The Mystery Shack closed up shop. One can still spot toys in stores and books are still being released continuing the adventures of Dipper and Mabel Pines. And fans hold out hope that we will someday return to "Gravity Falls" in animated form as they re-watch the episodes we have over and over again (at least my kids do). Now fans can have all the episodes and a full disc of special features in their collection in the new "Gravity Falls: The Complete Series" Blu-ray set. It's an excellent release—the only negative being the poignant finality in the word "complete."
If you're unfamiliar, "Gravity Falls" is the story of twins Dipper (voiced by Jason Ritter) and Mabel (Kristen Schaal), who have been sent to the titular location to spend the summer with their "Grunkle" (great uncle) Stan (creator Hirsch himself). Stan runs something called The Mystery Shack, one of those side-of-the-road places you see on a road trip that promises crazy sights like bottomless pits and other eye-popping wonders. The thing is that Gravity Falls really is the center of a lot of mysterious, supernatural activity, which Dipper and Mabel get to investigate in every hysterical episode.
"Gravity Falls" deserves to be in the conversation with "Bob's Burgers," "Rick and Morty," and "Bojack Horseman" when people discuss the best animated programming of the '10s. It is a beautiful blend of old-fashioned storytelling—the Pines kids and their array of friends and co-workers often recall the Scoobs as they investigate—with a modern sense of humor that never feels like it's talking down to kids. It works for all ages, never overplaying its themes but incorporating them into the storytelling. It sounds cheesy, but the best fiction for kids doesn't hammer them with a message but incorporates it into the characters and story. It's a deliriously strange, fascinating show, with sources of humor and heart that always find a way to surprise. It also helps that the voice work is uniformly fantastic, especially Ritter and the always-great Schaal.
Hirsch walked away from the show in 2016 but has remained open to specials in the future. And he released a graphic novel this month continuing the adventures of Mabel and Dipper. Let's hope he adapts into a new season soon.
The Blu-ray Complete Series set includes a full disc of new material. The episodes themselves look great in HD, although they look about the same as they do streaming off Hulu. This is more worth the purchase for the collectible factor, the extensive bonus material (including commentaries on every episode), and just to put money in the pocket of someone who may someday bring it back.
Special Features
NEW Audio Commentaries On All 40 Episodes With Creator Alex Hirsch And Members Of The Cast And Crew
NEW "One Crazy Summer" – A Look Back At Gravity Falls Featuring Interviews With Alex Hirsch, Actors Jason Ritter, Kristen Schaal, Jackie Buscarino, Thurop Van Orman, Carl Faruolo, And Niki Yang, Creative Director Michael Rianda, Producers Rob Renzetti And Brian Doell, Directors And Artists Matt Braly And Joe Pitt, Writers Jeff Rowe, Shion Takeuchi, And Josh Weinstein, Composer Brad Breeck, Art Director Ian Worrel, Artists Dana Terrace, Robertryan Cory, Andy Gonsalves, Sean Jimenez, And Alonso Ramirez Ramos, And Alex's Twin And The Inspiration For Mabel, Ariel Hirsch (105 minutes)
NEW "The Hirsch Twins" – Alex & Ariel Hirsch Remember Their Own Summers Growing Up
NEW Deleted Scenes – Over An Hour Of Never-Before-Seen Content
"Between The Pines" – Behind-The-Scenes Series Finale Special
Shorts – Interstitial Programming Between Seasons 1 And 2
Promos – Commercial And Other Promo Materials From The Show's Run
And More … ?