Tariffs hit home as Harley-Davidson looks abroad to boost sales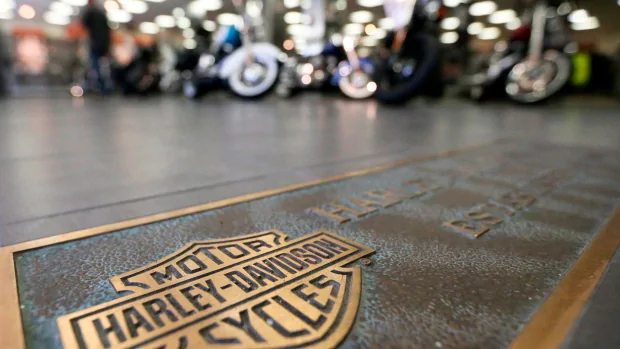 With sales stagnant at home, Harley-Davidson has looked increasingly overseas for buyers of its iconic motorcycles.
The economic headwinds it faces are increasing however as tariffs abroad, in retaliation for U.S. duties on steel and aluminum, take a bite.
The Milwaukee company on Tuesday, citing the tariffs, lowered its expectations for operating margins this year from 9.5 per cent to 10.5 per cent, to 9 per cent to 10 per cent.
Profits have been pressured for some time, but Harley-Davidson has consistently topped Wall Street expectations in part by slashing costs. In June, while pursuing that same strategy, it walked into the trade crossfire, saying that production of Harley-Davidson motorcycles sold in Europe must be move from U.S. factories to facilities overseas.
The move, it said, was the consequence of the retaliatory tariffs the EU is imposing on American exports.
The importance of overseas markets to Harley-Davidson plays out every quarter in its sales numbers.
U.S. sales slid 6.4 per cent in the most recent quarter, and they're down 8.7 per cent at the halfway point of the year. Sales in Canada fell 0.5 per cent over the past 3 months, and are down 4.9 per cent over the past six months.
At the same time, international sales rose 0.7 per cent in the quarter, and 0.5 per cent over six months. Sales in Europe, the Middle East and Africa rose 3.6 per cent in the quarter, and are up 4.8 per cent in six months. Latin American sales rose 9.1 per cent in the quarter.
The company wants to keep that momentum going overseas but in doing so, it has incensed Trump, who lashed out directly at Harley-Davidson after it said it would need to move some production overseas.
"We won't forget, and neither will your customers or your now very HAPPY competitors!" Trump tweeted. He then said that the administration would court motorcycle companies that want to move to the U.S.
Harley was one of the high-profile American companies singled out by the Europe with tariffs, along with bourbon and Levi's jeans. Those tariffs took effect right at the end of the most recent quarter, on July 1, so the full effect was not really felt by Harley.
For the three months ended July 1, Harley-Davidson Inc. earned $242.3 million, or $1.45 per share. A year earlier the Milwaukee company earned $258.9 million, or $1.48 per share.
Stripping out manufacturing optimization costs, earnings were $1.52 per share. That easily beat the $1.35 per share that analysts surveyed by Zacks Investment Research were calling for.
Revenue from motorcycles and related products dropped to $1.53 billion, from $1.58 billion, as sales in the U.S., Asia Pacific region and Canada declined. Sales in Latin America rose 9.1 per cent and sales in the EMEA region increased 3.6 per cent. Overall revenue topped the $1.42 billion that analysts predicted.
At the opening bell, shares rose more than 4 per cent.