Remarkable ride: Edmonton cowboy's journey from a small ranch in Brazil to the top of the bull riding world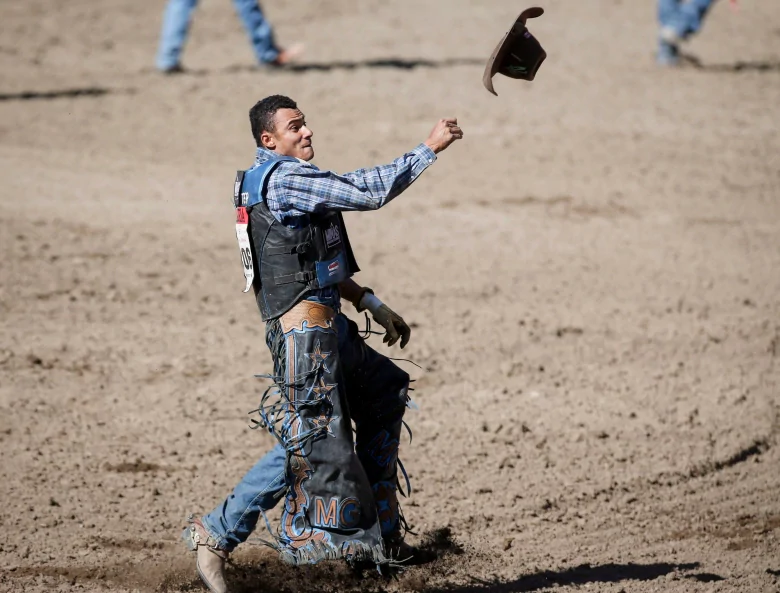 Marcos Gloria wanted to be the champion in the first round but he had to wait until the second to earn Calgary Stampede glory.
After getting bucked off Happy Camper — getting slightly injured in the process — the 27-year-old cowboy rode to victory on July 15 in the second round atop Rattler, taking the $100,000 top prize by hanging on while his competitors were tossed into the dirt.
As journalists huddled around him in the winner's circle, the young cowboy who officially represents Edmonton in competition gave an interview.
Entirely in Portuguese.
Gloria is actually a Brazilian who has made Alberta home for a little more than two years. But his journey — from a modest cattle ranch more than 10,500 kilometres away to the top of the Stampede podium — isn't one he could have done alone.
"There's no way to explain it other than just happiness," Gloria said in his native Portuguese. "It's the biggest dream of any competitor to win the Stampede. And I had the opportunity my first year competing to be the champion.
"It makes me really happy."
Gloria arrived in Edmonton in May 2016. Home is in a quiet new development of Leduc county where his Stampede trophies and oversized cheque decorate the fireplace mantel. Simply furnished, the new suburban house is well beyond anything he could have afforded in Brazil.
Marcos Gloria, of Edmonton celebrates winning the bull riding event at the Calgary Stampede on July 15, 2018. (Jeff McIntosh/The Canadian Press)
Born and raised near the small town of Itabirinha in the country's southeast, Gloria comes from humble beginnings. As a teenager on the ranch, he joined his friends in trying to ride bulls.
His move to Canada, done with hopes of becoming a bull rider in the professional arena, was made possible thanks to his sponsor, best friend and soon-to-be-roommate, Andre Portes.
Two men, a shared dream
Portes' family lives in the same area where Gloria grew up. Like Gloria, he started bull riding when he was young and made the big move to North America where, for seven years, he lived in Canada and the United States, competing in the Professional Bull Riders (PBR) circuit with moderate success.
In 2008, Portes returned home for a visit and his father introduced him to Gloria.
Gloria's natural talent for bull riding was clear to Portes.
They maintained a friendship across borders and years, and then Portes made an offer that would change Gloria's life: to sponsor the younger man to ride bulls professionally in Canada, based out of Portes' own home in Edmonton.
"I come from nothing. I know where we came from. I know that you don't have a lot of opportunities," said Portes, 39.
"And I just had a desire to help him. And see if he could accomplish something riding bulls here."
Marcos Gloria, right, and Andre Portes, hold the oversized cheque presented to Gloria after he won the Calgary Stampede bull riding competition. (Sheena Rossiter/CBC)
'He opened his doors to me'
There's a popular saying in Brazil: It's not for beginners. And it's truer now more than ever before as Latin America's largest nation suffers from its worst economic and political crises in decades.
]The political corruption has nearly choked the economy, leaving Brazil in the worst economic recession in over 80 years. Unemployment is sitting around 12 per cent. Crime, which was already bad, has started to spike.
Edmonton cowboy Marco Gloria, the Brazilian who calls Edmonton home because it is the place where he got his fresh start. (Sheena Rossiter/CBC)
Gloria is grateful for Portes' invitation to come to Canada, and considers him family.
"He opened his doors to me. If it wasn't for him, none of this would be happening in my life today," Gloria said. "He always says that I'm living a dream that he had always wanted. But I carry it the other way that I'm part of him as well."
Including Gloria, Portes has tried to sponsor six bull riders from Brazil to come to Edmonton over the years, only three of whom have been approved.
Gloria's success has surpassed all of them — and has filled Portes with immense pride.
"I was surprised. I was very happy. For a moment I couldn't even talk. I was very emotional," Portes said about the moment when Gloria was named the champion at the Stampede.
"I always tell him that everything he's accomplished is what I always wanted for me. So I'm happy to see that he's accomplishing that."
Hitting the rodeo circuit in a VW Golf
The two travel from rodeo to rodeo in Gloria's Volkswagen Golf, the most popular vehicle among the middle-class in Brazil — though certainly not the typical cowboy ride of choice in Alberta.
In his short time in Canada, Gloria has accomplished a lot on the PBR circuit. This year alone, his prize money totals just over $145,000, with most coming from the Stampede win.
Gloria is the third-ranked bull rider in the PBR Canada National standings and 27th in the world — accomplishments that would have been almost impossible to achieve in his native Brazil where rodeos are highly competitive and tend to work based on invitation rather than qualifying merits.
Gloria's calendar is full as he seeks to maintain his global ranking, but his biggest dream is just a few months away. In October, he's expected to compete in Las Vegas at the World Bull Riding championships, where he'll once again be vying for the top prize.
Grateful to the city 'where everything started'
For Gloria, Edmonton has been a fresh start and that is the reason he lists Alberta's capital — instead of his native Brazil — as his hometown.
"Here's where everything started in my life," Gloria said, his Portuguese carrying the slight country accent that would be the equivalent of an English speaker with a southern drawl.
"All the opportunities that I've had have been here. And that's why I put down Edmonton. It's my city."