Rare 'ghost' magpie takes flight in north Edmonton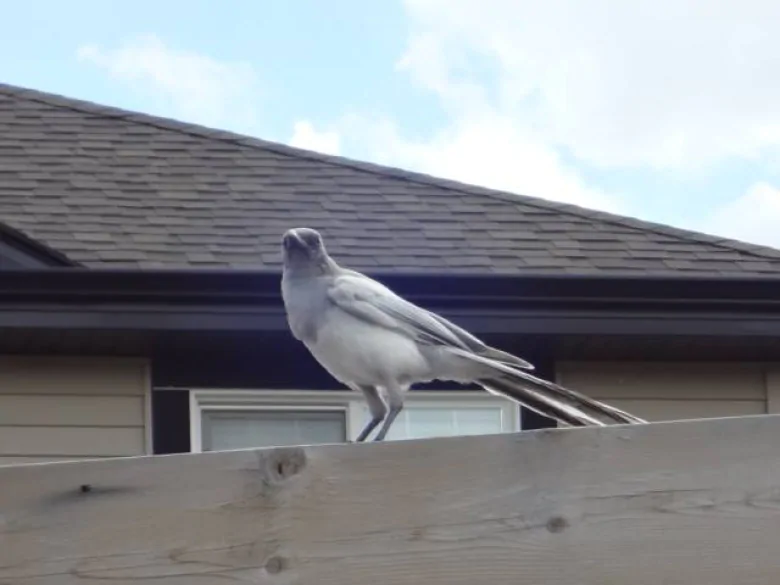 Angela Paik thought her eyes were deceiving her when she spotted the ghostly grey and white bird during a run through north Edmonton.
"I was so far into my run I thought I was hallucinating," Paik said of the odd bird sighting. It happened on the morning of July 5, when Paik was on the 30th kilometre of her regular 33-kilometre run.
"My first thought was that I was seeing ghosts, literally."
The bird was like nothing Paik had ever seen before. It squawked like a magpie, but its plumage was strange.
Through some online sleuthing, Paik realized the ghostly creature was an extremely rare bird — an "albino" magpie.
"I've been on the hunt ever since to get a good picture," Paik said in an interview Tuesday with CBC Radio's Edmonton AM.
"I've actually dragged my mom out on dog walks so she can hold onto the dogs and I go chase him through the bush. He's really fast."
White-chested with grey-wings, the magpies are often referred to as ghost birds, and their colouring certainly stands out among the squawking flocks of their black-billed brethren.
Not true albinos, their smoky plumage is due to leucism, a rare genetic mutation which causes a partial loss of pigmentation.
'Elusive little bugger'
Paik first spotted the rare bird on a path near Carlton on 160th Avenue and 139th Street in the Carlton neighbourhood.
He returned to the area numerous times in attempt to catch another glimpse of the rare bird, and get a better picture of the "elusive little bugger."
She even altered her regular dog walking routine in an attempt to find him. It would be weeks before she spotted him again.
"It took a couple a weeks and now I can't stop seeing him. He's out there all the time."
The "albino" birds are extremely rare, even in Edmonton which has been named Canada's magpie capital. (Angela Paik)
While there are only a few of the leucistic magpies in the city, the standard black and white magpies are so populous in the city, they've earned Edmonton the dubious distinction of being Canada's magpie capital.
Magpies, known for travelling in obnoxiously-large, garbage-loving, dive-bombing droves, aren't exactly known for their gentle personalities.
They are often described as the biggest jerks of the bird world, and the white magpie is no different.
"I'm pretty sure he is a jerk," she said. "I've seen a robin chasing him away from the robin nest quite a few times.
"It's pretty unique but still, it's a magpie."