NHL free-agent roundup: James van Riemsdyk rejoins Flyers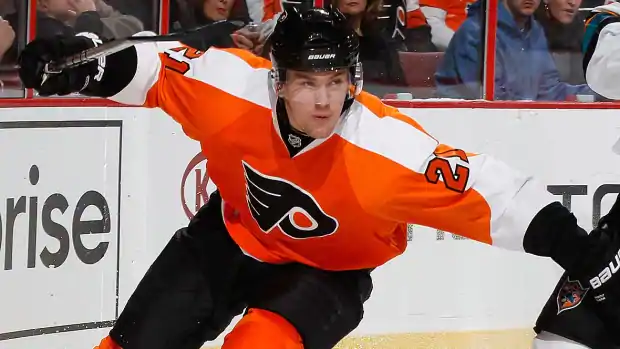 James van Riemsdyk highlighted a series of moves by former Toronto Maple Leafs players on Sunday to open NHL free agency.
Fresh off a career-high and team-best 36 goals, van Riemsdyk is expected to return to the Philadelphia Flyers, who drafted the six-foot-three, 220-pound left-winger second overall in 2007.
The 29-year-old's deal is reported to be five years and worth $35 million US.
Van Riemsdyk finished fifth in Maple Leafs' scoring with 54 points this past season, the durable forward's sixth in Toronto and ninth in the NHL.
The native of Middleton, N.J., has demonstrated a strong net-front presence in recent seasons and the ability to be a top-line forward with 201 points in his past 285 games.
Van Riemsdyk broke into the NHL with Philadelphia in the 2009-10 season, scoring 15 goals and 35 points.
He was traded to Toronto in June 2012 for defenceman Luke Schenn.
Beagle to the Canucks
The Vancouver Canucks have added three free-agent forwards to their roster, helping fill a gap left by the trio of veterans who departed last season.
Centre Jay Beagle and left winger Antoine Roussel both signed four-year deals with the Canucks, who later added forward Tim Schaller on a two-year contract.
Beagle and Roussel will receive an average of $3 million per year. Schaller will get an average $1.9 million annually.
Roussel, 28, had five goals and 12 assists through 73 games last season with the Dallas Stars.
The 27-year-old Schaller scored a career-high 22 points with 12 goals and 10 assists in 82 games with the Boston Bruins last season.
Plekanec returning to Canadiens
As expected, veteran NHL centre Tomas Plekanec is said to be returning to Montreal a one-year contract worth $2.25 million after helping guide the Leafs to the post-season for a second consecutive season.
The 35-year-old took time to settle in with Toronto after being acquired ahead of the Feb. 26 trade deadline, posting only two assists in 17 regular-season games while being a dependable player in the faceoff circle.
Plekanec, who had a combined 26 points in 77 games with Montreal and the Leafs, added two goals and four points in seven playoff contests.
He is two games shy of 1,000 in the NHL while Plekanec's 605 points rank 13th in Canadiens history.
Montreal also signed free agent forward Matthew Peca to a two-year contract with annual salary cap hit of $1.3 million, and inked defenceman Xavier Ouellet to a one-year, one-way contract worth $750,000 in the NHL.
Polak, Aaltonen on the move
Meanwhile, veteran Maple Leafs stay-at-home defenceman Roman Polak signed with the Dallas Stars while forward Miro Aaltonen, who was a key contributor for the American Hockey League's Toronto Marlies in their first-ever Calder Cup championship victory last month, reportedly has signed with Podolsk Vitjaz of the Kontinential Hockey League in Russia.
The Chicago Blackhawks made a splash by signing former Carolina starting goalie Cam Ward, forward Chris Kunitz and defenceman Brandon Manning. Ward provides the Blackhawks veteran insurance after starter Corey Crawford missed most of last season with an upper-body injury.
The Buffalo Sabres filled a need at goaltender by signing former St. Louis Blues backup Carter Hutton to a three-year, $8.25 million deal. Hutton will share the starting duties with Linus Ullmark, who is pegged to make the jump to Buffalo after spending the past three seasons developing in the minors.
Forward David Perron returned to St. Louis by signing a four-year, $16 million deal after setting career highs with 50 assists and 66 points last season with the expansion Vegas Golden Knights. St. Louis also signed centre Tyler Bozak to a three-year, $15 million contract, and Sabres former backup goalie Chad Johnson.
Other notable deals:
The Minnesota Wild reached agreements to sign forwards Matt Hendricks and Eric Fehr to one-year contracts.
The Detroit Red Wings agreed to sign goalie Jonathan Bernier and Thomas Vanek. The 29-year-old Bernier signed a three-year contract after going 19-13-3 in 37 games with the Colorado Avalanche. Vanek signed a one-year, $3 million contract to return to the Detroit Red Wings, where he spent a portion of the 2016-17 season. Vanek opened last season with Vancouver and closed it in Columbus.
The Arizona Coyotes signed All-Star defenceman Oliver Ekman-Larsson to an eight-year contract extension that averages $8.25 million per year.
Once the free-agency frenzy is completed, the focus will shift to ongoing trade speculation and negotiations involving teams attempting to lock up star players to long-term contracts. Those players include Sabres centre Ryan O'Reilly, Ottawa captain Erik Karlsson and Nashville defenceman Ryan Ellis.