'Like being on the beach': New natural swimming pool set to open in Borden Park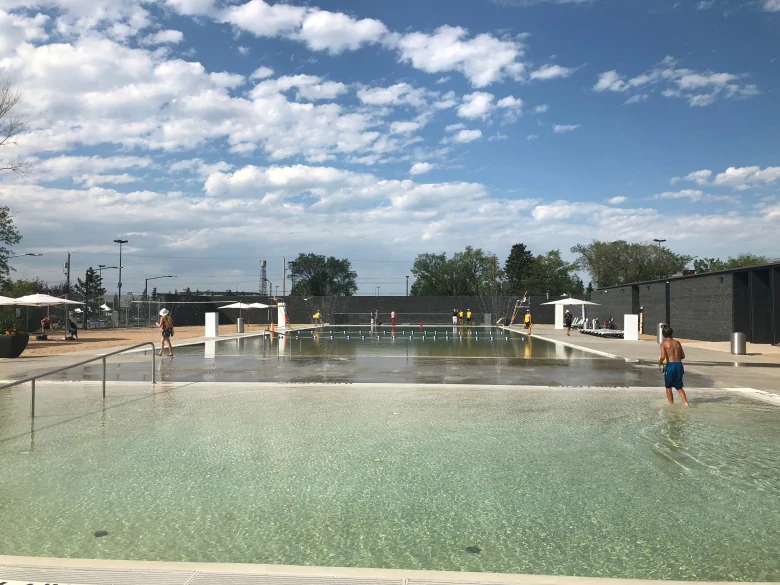 A new natural swimming pool in Borden Park is no swamp, say neighbourhood residents who got to take the plunge early.
"I just think it looks really awesome," said Renee Beaulac, a Highlands resident who took a dip in the new pool with her baby daughter on Friday.
"I think it's great. It's got the sand, which is nice for my little one, and the spray park area and kids' pool look good.
"It's no swamp at all."
The $14.4 million facility, scheduled to open to the public on Wednesday afternoon, is the first of its kind in Canada.
The naturally-treated pool relies on sand and granite filters, algae and aquatic plants such as reed grass and pond lilies, to keep the water clean and safe.
The grand opening, originally scheduled for June, was cancelled after crews discovered a small leak in the filtration system.
It was the latest delay for a project which has been beset by budget and operational problems.
The pool is in the northeast portion of Borden Park, which is north of 112th Avenue between 78th and 73rd streets.
'This is amazing'
To ensure everything goes swimmingly on opening day, about 100 neighbourhood community league members were invited to test the pool during a private event last week.
Some were conspiring how they might keep the pool exclusive forever.
"We're going to keep this a secret in our own neighbourhood," Val Brandenbarg said with a laugh as she lounged in the shade of a large white patio umbrella.
"This is amazing."
Brandenbarg said the pool is a major upgrade from the previous one, which offered little more than "concrete and chlorine."
Her friend and fellow patio-chair lounger, Andrea Moen, agreed.
"It's pretty fantastic. It's like being on the beach. It really is. It's terrific," Moen said.
"This is going to be popular when the sun is out. It's a fantastic setting."
Swimmers will have to adhere to rules designed to help protect the pool's ecosystem. (CBC)
Unlike a pristine blue swimming pool that relies on chemical filtration and chlorine, the natural pool has colder, cloudier water and a separate filtration pool nearby.
The pool site also includes a large sandy area, with space for volleyball, patio chairs, picnics and plenty of sand castles.
"Being one of the first families out here in Borden Park, it was pretty awesome," said Jo-Anne Granstrom, who decided to take a dip with her family during Friday's "test swim" event.
"We got a whole pool to ourselves, beautiful sand, and lots of water and my little guy is having a great time already."
I can see a few filters getting clogged.– Jo-Anne Granstrom
Because no disinfectants are used to treat the water, there are a few extra rules intended to protect the pool's fragile ecosystem.
Sunscreen and lotions must be phosphate -free, only proper bathing suits can be worn in the water, and soaking showers are strictly enforced by lifeguards.
Swimmers are also strongly encouraged to notify staff if the water has been contaminated with urine, vomit or feces.
Despite her enthusiasm for the new swimming hole, Granstrom is worried the pool's fragile ecosystem might not withstand the rigours of the busy summer season.
The new rules take some getting used to, she said.
"I can see a few filters getting clogged," she said. "It's going to be a little swampy and weird and that's why we're here for the first day.
"I already walked in from the sand to the pool, and I'm adult and I did it accidentally, because that's just what we're used to."