Humboldt Broncos' Ryan Straschnitzki arrives home after spinal treatment in Philadelphia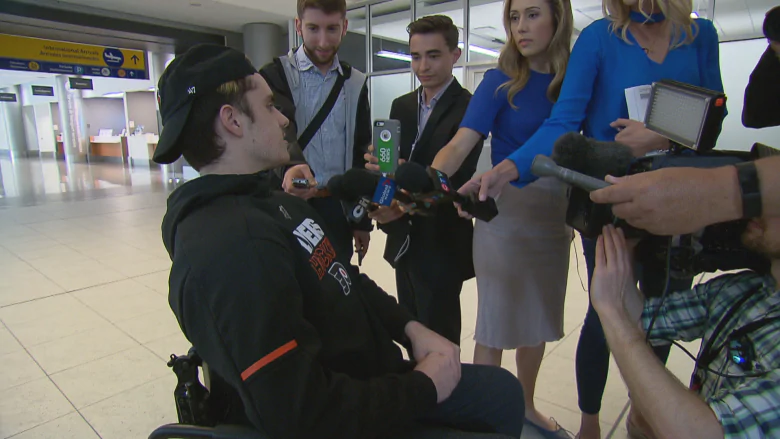 For the first time in five months paralyzed Humboldt Broncos player Ryan Straschnitzki is together with his family in his hometown of Airdrie, Alberta.
Straschnitzki was paralyzed from the chest down April 6 in a collision between the bus carrying the Humboldt Broncos and a semi-trailer north of Tisdale, Saskatchewan that killed 16 people and injured 13 others.
He has spent the past month at the Shriners hospital in Philadelphia and returned home to a bank of TV cameras and journalists at the Calgary International Airport late Wednesday afternoon.
Straschnitzki says it feels good to be home and he was watching the view out the window as the plane was landing in Calgary.
"It was nice. It brought back memories," he said.
He plans to take a few days off before returning to physiotherapy. He said the treatment he received in Philadelphia was top-class and helped him a lot.
"I'm confident in my skills now, and now it's just practice," he said.
He intends to take his girlfriend to the Calgary Stampede and visit with family and friends.
Ryan Straschnitzki told reporters who greeted him at the airport in Calgary that he plans to take some time off and go to the Stampede with his girlfriend before resuming his physiotherapy. (CBC)