Haida Nation wants shipping traffic banned from culturally significant underwater volcano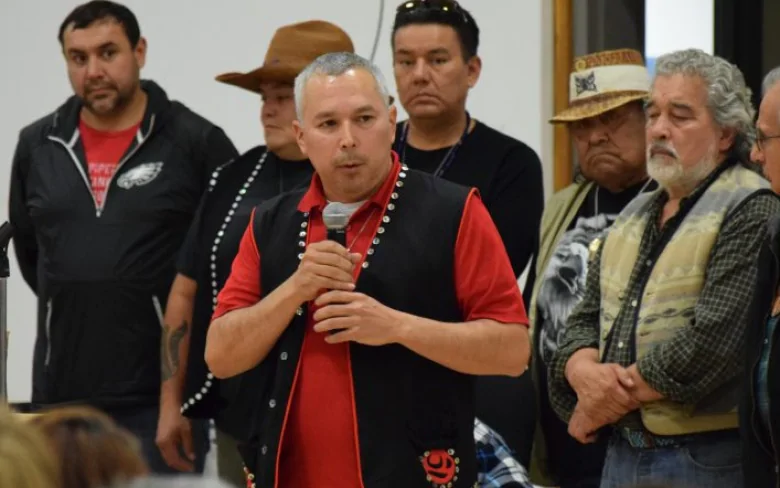 The Haida Nation wants tighter restrictions around a marine protected area that is the site of an ancient undersea volcano from which springs a supernatural being central to some of the nation's traditional stories.
Known as the SGann Kinghlas-Bowie Seamount Marine Protected Area, it encompasses a grouping of about three volcanoes which rise 3,000 metres from the seafloor to about 24 metres from the surface of the Pacific Ocean.
The Haida Nation wants to restrict shipping traffic in the area. Currently, it is only a "voluntary exclusion zone," said Haida Nation President Kil tlaats'gaa Peter Lantin.
"We want to make sure with all this traffic out there that these areas are to be avoided, that it's not just voluntary," he said.
The seamount, or undersea mountain, sits about 180 km off the coast of Haida Gwaii and is believed to have formed about one million years ago as an active volcanic island.
Haida Nation President Kil tlaats'gaa Peter Lantin (centre with microphone) wants tighter restrictions around the SGann Kinghlas-Bowie seamount marine protected area. (Haidanation.ca)
The marine protected area has been co-managed by the Haida and Fisheries and Oceans Canada since 2008.
After years of lobbying by the Haida Nation, Ottawa moved this year to shut down the sablefish fishery in the area over concerns it harms the fragile marine ecosystem that flourishes on the seamount, said Lantin.
In the Haida oral tradition, the seamount is home to a supernatural being known as SGann Kinghlas, which means "supernatural being looking outwards," said Lantin.
"It is very important to the Haida Nation culturally. It is part of our oral tradition," he said.
Area under study
SGann Kinghlas-Bowie is one of three seamounts, along with the Dellwood and Explorer seamounts, currently the subject of an expedition launched this month in partnership between the Haida Nation, Fisheries and Oceans Canada, Oceans Canada and Ocean Networks Canada.
The Dellwood and Explorer seamounts sit in an "area of interest for marine protection" which is part of Ottawa's plan, announced in 2017, to protect 10 per cent of Canada's oceans by 2020.
The Dellwood seamount, which sits off the southern tip of Haida Gwaii, is also within the Haida Nation's territory. The Explorer seamount sits off the western coast of Vancouver Island.
Lantin said there are a lot of concerns about the expected increase in tanker traffic that will follow the construction of the Trans Mountain pipeline, which Ottawa has announced it will buy to complete.
"What this is all about is to get a better understanding on the importance of these areas," said Lantin.
Crimson anemones, orange zoanthids, red coralline encrusting algae, and a grey encrusting demosponge on the SGann Kinghlas-Bowie seamount. (Fisheries and Oceans Canada, National Oceanic and Atmospheric Administration)
The area targeted for marine protection as part of Ottawa's plan includes 87 per cent of all seamounts within Canada's nautical borders, said Tammy Norgard, chief scientist of the expedition with DFO.
Norgard said there is very little data about seamounts in Canada and the expedition, which began July 5 and runs to July 21, has already gathered potentially previously unknown species of undersea life using high tech remote-operated submarines.
"They are cool volcanoes on the bottom of the ocean," said Norgard.
DFO has surveyed the SGann Kinghlas-Bowie seamount three times before the current expedition. There had been no previous expeditions to any other seamounts until last year.
"It's a very new program," said Norgard.
Images from from the expedition are being live-streamed from the EV Nautilus ship which was provided by the Ocean Exploration Trust.
"We are learning every step of the way," said Bob Rangeley, science director of Oceans Canada. "It is a true collaboration in the sense that we will all benefit from it."