Edmonton bars Hudsons, Nyala fined for overcrowding incidents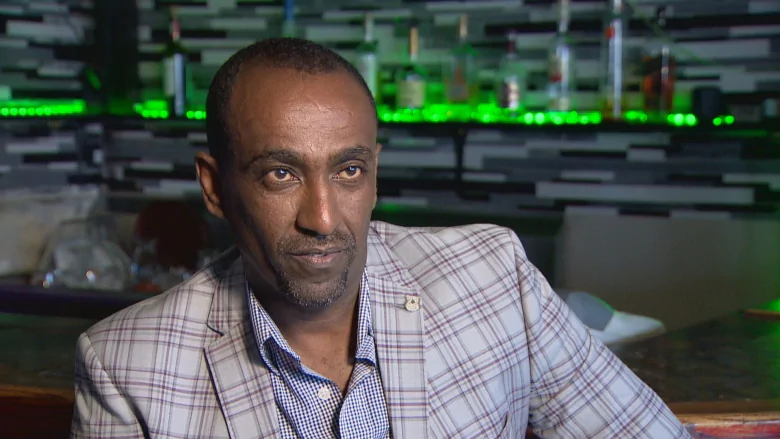 Two Edmonton bars have been convicted of overcrowding incidents that date back to 2017.
Hudsons on Whyte, a popular sports bar located at 103rd Street and 82nd Avenue, was fined $7,000 for being over capacity on April 12, 2017, when the Edmonton Oilers were facing off against the San Jose Sharks during the first round of the playoffs, according to a news release from Edmonton Fire Rescue Services.
Nyala Lounge, located at 98th Street and 108th Avenue, pleaded guilty to an incident of overcrowding that took place in March 2017. In that case, the bar was fined $3,000 and owner Mulugeta Tesfay received a separate fine of $2,000.
Both bars pleaded guilty in provincial court, Hudsons on May 14 and Nyala on July 17. They are the first Edmonton venues to be convicted of overcrowding in 2018.
Mulugeta Tesfay, owner of Nyala, and his bar received separate fines for an overcrowding incident in March 2017. (Peter Evans/CBC)
"These occupancy limits help protect the public at Edmonton establishments," Mario Arrotta, assistant fire marshal, said in the release Monday.
Maximum occupancy loads for venues are set by fire prevention officers after considering floor space as well as the number, location and size of fire exits, said Arrotta. Overcrowding issues are monitored during inspections by Edmonton police, the public safety compliance team and fire officials.
"Our goal is to ensure timely evacuation for both staff and patrons in the event of an emergency."
Businesses can be fined up to $100,000 for a first overcrowding offence, and up to $500,000 for subsequent violations.
In 2017, fire prevention officers conducted 176 night patrols and the public safety team conducted 106 inspections.