Derek Fildebrandt to launch Freedom Conservative Party of Alberta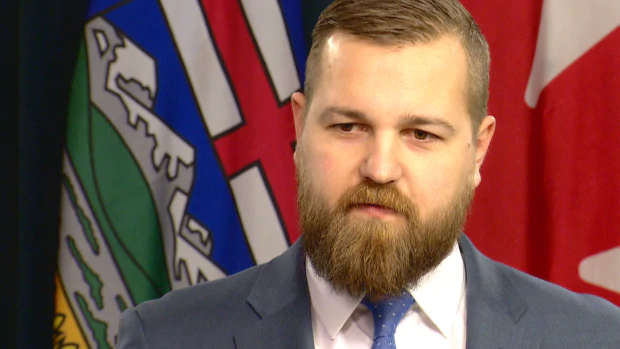 Saying he wants to provide another choice for conservative-minded voters, independent MLA Derek Fildebrandt is launching the Freedom Conservative Party of Alberta.
"We are conservatives but we are not a traditional, big business establishment Tory party," he told CBC News.
"We are a coalition of unapologetic conservatives, libertarians and Alberta patriots. We don't want to simply throw out the NDP, throw a new coat of paint on the truck and start driving. We want to flip it over and fundamentally change the status quo of Alberta's place in Canada."
Complaints of meddling by United Conservative Party officials in local constituency races was one of the motivators for Fildebrandt. He stepped away from that caucus last year after being one of its strongest boosters during the merger between the former Progressive Conservatives and Wildrose.
Earlier this month, former broadcaster Roger Millions said on social media he has concerns about the nomination race he lost to Angela Pitt in the riding of Airdrie-East.
Alberta needs a UCP government with integrity in 2019. Recent nomination concerns are problematic re how party administration conducts contests. We have brought concerns re our race in Airdrie-East. Hope to see fair resolution soon. <a href="https://twitter.com/hashtag/ableg?src=hash&amp;ref_src=twsrc%5Etfw">#ableg</a>

&mdash;@RogMillions
And in the riding of Medicine Hat-Brooks, Todd Beasley dropped out of the nomination race after it was discovered he had made hateful remarks on Facebook regarding Islam and the Prophet Muhammad. Beasley countered that party officials were aware of the posts and he was ousted because he was gathering support and they preferred a different candidate.
"If members of the party cannot select their own MLA in an open and democratic nomination process, then they effectively have no choice over who their MLA is at all, if there is no other conservative option," Fildebrandt said.
"If the issues around meddling and grassroots nominations and moving away from strong conservative values had been limited to just my constituency, I would have run as an independent, but it's not. So I began speaking with people across the province several months ago and began organizing."
The outspoken MLA was elected in Strathmore-Brooks under the United Conservative Party banner in the last election, but stepped away from caucus in August last year.
---
He repaid more than $2,500 after it was revealed he had been subletting his Edmonton apartment while claiming his taxpayer-funded housing allowance as an MLA.
Fildebrandt then blamed "administrative errors" for the apparent double-billing of some meal expense claims over a period of two and a half years.
In December, Fildebrandt was fined $400 after being found guilty in Edmonton traffic court of hit and run and failing to notify the owner of the damaged vehicle.
And in February, he pleaded guilty to illegally shooting a deer on private property and was ordered to pay $3,000 in fines.
It was only an hour after that guilty plea that Kenney announced Fildebrandt wouldn't be allowed to rejoin the UCP caucus because he hadn't previously revealed the charge to party officials.
Fildebrandt contends however, he was essentially barred from running under the UCP banner in his constituency as a re-drawing of the electoral boundaries would have pitted him against Leela Aheer, who currently represents Chestermere-Rocky View.
"I thought about running as an independent in the next election when I was informed I would not be allowed to run in my own constituency because it would look bad if, in Kenney's own words, 'a blond, bearded redneck, were to defeat one of our only women in our caucus.'"
Fildebrandt says the UCP has "been taken over by the old Tory establishment and feels entitled to power."
"And that entitlement to power had led to two things I simply can't stand by and watch," he said. "That is meddling in local nomination contests to ensure that in as many cases as possible, the backroom party insiders get the candidate they favour over the objections of the local grassroots members and the constituency."
Won't run candidates in all ridings
The newly formed party will not field a full slate of candidates in all 87 ridings. Instead, Fildebrandt said the goal will be to run candidates in ridings "where the NDP have no chance of winning to avoid vote splitting."
"The NDP absolutely must be defeated in 2019 and we are hellbent on making sure that happens," he said. "We're going to give people a choice that's not simply a gun to their head where they have to vote Tory or NDP. People deserve the right to select their own candidate for MLA, and if they can't do that in a constituency that's already conservative, then they effectively have no vote whatsoever."
Board of governors announcement in works for Friday
The party is registered with Elections Alberta and Fildebrandt says they'll be seeking recognition as a caucus in the Legislature.
A board of governors will be announced at a launch event planned for Friday.
"They represent conservative, libertarians, and Alberta patriots from all corners of Alberta that are forming the core of the new party as we start to build out," he said.
Bob Lefurgey is listed on the Elections Alberta website as president of the new party.
"The Alberta First Party made application to the Chief Electoral Officer to change the party name to Western Freedom Party of Alberta, which was approved and made effective April 23," reads a statement on the Elections Alberta website.
"Following this change, the Western Freedom Party of Alberta made another application to change the party name to Freedom Conservative Party of Alberta, which was approved and made effective June 22."
Not just Wildrose 2.0
Fildebrandt says they intend to appeal to former Wildrose voters, "but more than just that, this party will not just be Wildrose 2.0."
"It's also going to focus on a broader set of issues. We reject the status quo of Alberta's place in confederation right now," he said. "Alberta is treated as a colony that is milked and not treated as an equal partner in confederation and simply carping about minor tweaks to the equalization formula are only the tip of the iceberg, which is why we will demand the immediate repatriation of all powers that Alberta possesses under the Constitution, which is does not currently exercise, meaning we will repatriate control over EI, CPP, administration of the Firearms Act, immigration and tax collection."
Following Friday's announcement, Fildebrandt says he plans to travel around the province, "signing up new members, starting constituency associations and laying the groundwork for a party that will be competitive across rural and small town Alberta."