Damage from alleged youth vandalism spree estimated at $300,000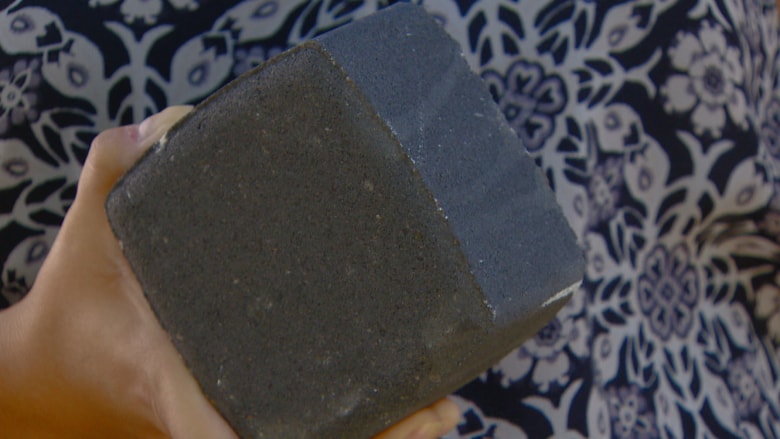 A piece of crudely cut plywood covers the front window of Mary Saretski's elegant infill home.
It's a reminder that two weeks ago, vandals smashed the glass with a heavy patio stone, frightening Saretski and her husband in the middle of the night and causing $1,300 worth of damage.
Police announced on Monday that four youth had been arrested in connection with that incident, and about 80 similar ones that occurred in several west-end neighbourhoods in late June and early July.
The total damage estimate is pinned at $300,000. One vehicle that was hit sustained $9,000 worth of damage.
This patio stone smashed through the front window of Mary Saretski's home on the night of July 4th, 2018. The incident was part of a vandalism spree throughout Edmonton's west end. (CBC)
With a $1,000 deductible for the damage to her house, Saretski said it makes more sense for her to pay for the repairs herself. But she worries about neighbours who perhaps can't afford to repair a window on their house or several on a vehicle.
"There's an 80-year-old man on my block who had his car smashed. I don't even know if he can afford to have it fixed," she said.
Saretski's plans to attend the court proceedings for the youth, who are all under 18 and cannot be named under the Youth Criminal Justice Act.
"Just to let them know that people are affected," Saretski said.
"I think teenage pranks, or doing something that's stupid once, is one thing. This was well thought out and continuous, which is really upsetting to me."
The youth are accused of smashing the windows of houses and cars in neighbourhoods including Westmount, Inglewood, Woodcroft, North Glenora, Sherbrooke and others.
Saretski has not ruled out going to small claims court to try to recover some costs.
Caught with patio stones
Soon after the rock-throwing incidents, several neighbours took to Facebook to post images of their damaged property. They urged each other to report anything suspicious.
A police spokesman said the social media discussions did help provide investigators with corroborating witness accounts of what happened.
The four youth were arrested when someone in the area of 108th Avenue and 120th Street reported glass being smashed on Sunday night, police said. Officers later stopped a vehicle that was driving with its lights off. There were four young people inside, along with more than 25 patio stones on the front seat.
"I'm glad they were travelling around with the stupid pavers in their car otherwise they probably wouldn't have been caught at all," Saretski said.
"My joke has been that we should make some sort of community patio with our bricks."