Cyberattacks targeting Canadian troops in Latvia seem to be easing off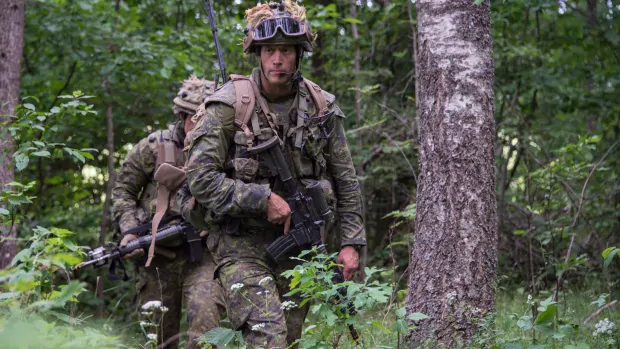 It's been all quiet on the eastern front lately for Canadian troops in Latvia, who say the deluge of fake news and cyberattacks that greeted their arrival in the Baltic state has been dramatically — and somewhat inexplicably — scaled back.
Prime Minister Justin Trudeau arrived late Monday in the capital Riga for a bilateral visit that will include both a state visit and time spent with soldiers deployed as part of the NATO deterrence mission in the Baltic.
Last fall, the Canadian contingent was hit with an information warfare barrage. It included false stories that claimed Canadian soldiers were living in luxury apartments and that former colonel Russell Williams, the disgraced convicted sex killer, was still in command of a major air base.
The fake news was published on Russian-linked websites and aimed at the Latvian civilian population.
But the Canadian contingent hasn't seen any of those phoney reports for months, said the Canadian battle group commander.
Propaganda war
"We're not sure why it has quietened down," said Lt.-Col. Sean French.
"It could be because it's not worth their effort. They haven't seen the fake news convince a lot of people. Or it could be because they've got other things to talk about, like the Olympics, the [upcoming Latvian] election or the World Cup."
French said the contingent has been trying to counter anti-NATO propaganda by holding outreach events in Latvian communities and inviting locals to get to know the troops.
Latvians are gearing up to go to the polls in parliamentary elections to be held no later than Oct. 6, 2018, and sources at NATO and within the diplomatic community say the Russians have focused a lot of attention on creating discord in the country in advance of the election.
Reports published last year said the roughly 4,000 NATO troops in the Baltic states have also been the targets of Russian smartphone hacking — a charge Moscow has denied.
The most notorious account involved the U.S. commander of a NATO base in Poland, who was quoted as saying that someone tried to access his iPhone Apple account. The trace, he said, led back to a site outside of Moscow.
French said his Canadian contingent has seen fewer cyber incidents lately — in part because the Canadian military has been drilling cyber-security rules into the heads of soldiers before they deploy.
Canadian leadership of the multinational battle group is being extended and French said they are overcoming many of the language and cultural obstacles you'd expect when working with a diverse group of nations.
There are Albania, Slovakian, Slovenian, Czech, Polish, Italian and Spanish troops taking part in the NATO mission in Latvia.
Working around the language barrier
French said many of the practical problems involved in working in such a diverse coalition — such as getting all of their radios and equipment to talk with one another — have been overcome. But daily face-to-face dialogue remains a challenge.
"Ultimately, the working language is English," he said, "and all the leadership can't speak English, but we work hard to make sure everybody knows a little bit of everybody else's language."
One advantage to having some Eastern European countries on the team, he said, is that "Czech is not that different from Slovakian or Slovenian."
Learning the various rank structures has been another hurdle for the Canadians, he said, adding that each of the different nations has been tuned in to the cultural nuances.
"I've learned a lot about our allies," said French, marvelling at how many western militaries have common procedures.
Where he sees a difference is in the attitudes each army brings to combat.
"I've learned a lot from different nations in terms of how aggressive they can be on the battlefield," said French.
"Sometimes I think, with Canadians — the way we employ things — sometimes, we try to understand things too much. We have other nations here that are a little more, 'Hey, this the time I'm going to get the job done.'"
Those differences were evident during the Afghan war when, in Kandahar, Canadian troops operated beside Romanian units, who were affectionately nicknamed "The Happy Triggers" for their swift, ferocious approach to fighting the Taliban.