Compass Minerals and Unifor reach tentative deal in Goderich salt mine strike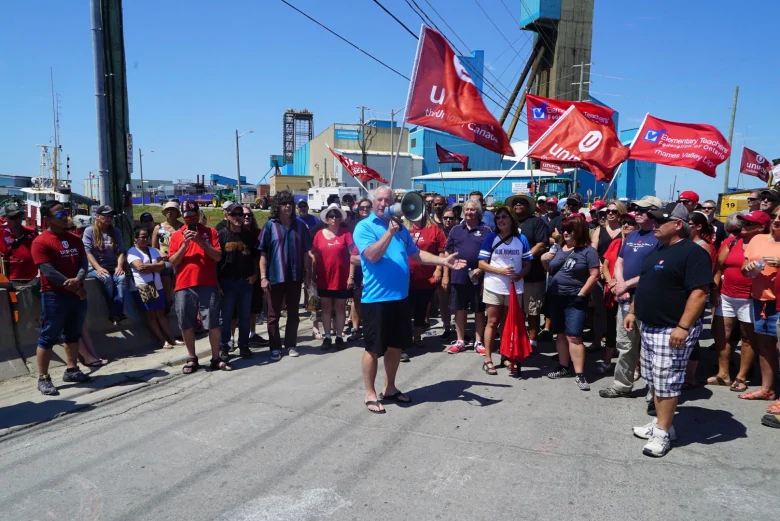 Compass Minerals and the union representing striking Goderich salt mine workers have reached a tentative deal, days after both sides returned to the bargaining table.
Unifor Local 16-0 and the company both announced the progress late Saturday.
"There is no doubt that the support from hundreds of members of Unifor and other unions, along with the ongoing support from the Goderich community made a powerful impact to help get Unifor back to the table," said national union president Jerry Dias in an online news release.
Unionized workers rally along a narrow stretch of road leading to the Goderich salt mine. Striking workers have had to dismantle a blockade after an Ontario court ordered them to stop. (Colin Butler/CBC News)
A vote will be held on Monday to possibly end the 12-week strike. The union said details of the agreement will only be presented to its members.
More than 350 unionized workers have been on strike since April 27. The salt mine, located beneath Lake Huron, supplies de-icing salt to cities and other customers across the country and the rest of North America.
Striking workers attempted to increase pressure on the company about two weeks ago when some 300 people blocked replacement workers and members of management from entering the mine. They dismantled the blockade in response to a court order.
However, negotiations between the union and company resumed more than a week later.