Clean up underway after Friday storm topples trees across Edmonton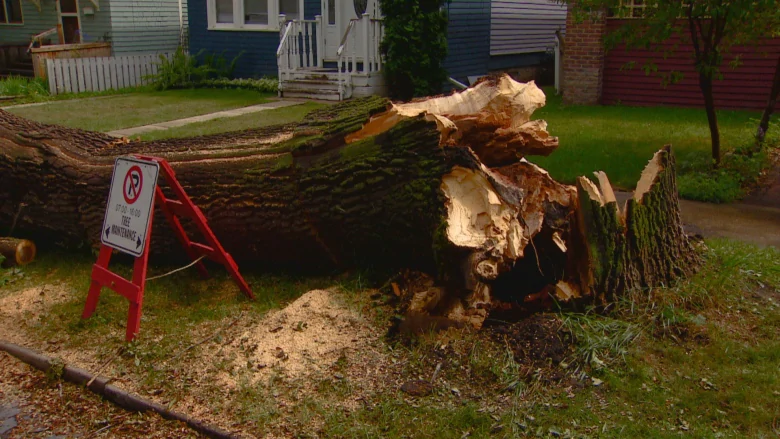 City crews are spending the weekend cleaning up debris after a major thunderstorm downed trees across Edmonton on Friday.
Crispin Wood, manager of urban forestry for the city, said the storm was significant, but didn't result in an abnormal amount of calls about fallen trees.
A lot of the calls that did come in, however, had to do with completely downed or multiple damaged trees, he said.
A lot of the calls the city received following Friday's storm had to do with completely downed trees, Wood says. (Scott Neufeld/CBC)
"We do have a significant amount of work given the few number of notifications that did come in," Wood said, adding about 15 forestry crews were on cleanup duty on Saturday.
"This storm, the winds were coming from multiple directions — we did have crosswinds. And as result, the trees are not adapted to that and that's when you see those multiple tree failures or those full tree failures, as opposed to simply just broken branches."
All damaged trees will be replaced within three years, Wood said.
The city received calls about 152 hazardous broken branches that could fall on people or damage property, spokeswoman Lori Yanish said Saturday.
At least two vehicles were damaged by falling branches in the area of 88th Avenue and 97th Street, where Wood and a forestry team cleaned up debris Saturday afternoon.
Falling debris caused some serious damage to this vehicle, which was parked on 88th Avenue and 97th Street. (Scott Neufeld/CBC)
People should steer clear of fallen or hanging broken branches, Wood said.
"These are not firewood for people, so we recommend people do not move the wood. If it's elm, there's a risk of spreading Dutch elm disease," he said.
People with downed trees in their neighbourhood can report them by calling 311.
Wood noted crews prioritize areas where there are safety concerns, and will continue cleanup efforts over the next couple of days.
Another look at the storm from EPCOR Tower. <a href="https://twitter.com/hashtag/yegwx?src=hash&amp;ref_src=twsrc%5Etfw">#yegwx</a> <a href="https://twitter.com/hashtag/yeg?src=hash&amp;ref_src=twsrc%5Etfw">#yeg</a> <a href="https://twitter.com/hashtag/abstorm?src=hash&amp;ref_src=twsrc%5Etfw">#abstorm</a> <a href="https://t.co/SZGW6iRlPX">pic.twitter.com/SZGW6iRlPX</a>

&mdash;@EPCOR