Alberta still scrambling to install free light bulbs and low-flow shower heads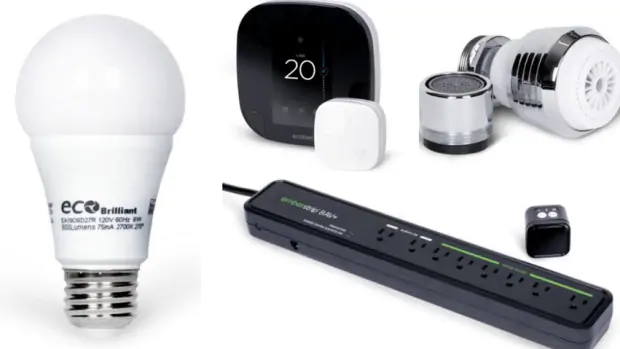 How long does it take to screw in three million light bulbs in Alberta?
It's an obvious set-up to a joke that could be told about Alberta's residential no-charge light bulb program.
Although the punchline doesn't have many Albertans laughing — the answer is a long, long time. More than a year, in fact.
And not all of those bulbs that have been installed are still working.
Despite the hiccups, the government agency charged with implementing the program is not concerned with the issues.
"We're happy with how the program has gone," said Curt Boechler, the spokesman for Energy Efficiency Alberta.
But even he acknowledges a year is a long time to wait.
"Yes, some people have probably waited a little bit longer than they would have liked, but all things considered, we're quite happy with how everything went," he said.
More participants than expected
When registration opened last year, more than double the number of expected Albertans signed up for the "free" program.
The freebies included the light bulbs, of course, but also low-flow shower heads, faucet aerators, smart power bars and smart thermostats.
Registration shut down last November — and the newly created government agency scrambled to meet the demand.
Ecofitt, the Ontario-based company hired to run the program, hired more staff and installers to tackle the workload — but eight months after registration closed at least 1,000 Albertans are still waiting for their new goodies.
Number 'extremely' low
And not all of the light bulbs are still shining brightly — 1,000 have been reported as defective.
"That number is extremely low, we're very happy with that number, to have such a low number of bulbs prove to be somewhat defective out of over three million is quite remarkable," said Boechler.
Of the three million bulbs installed so far, the agency claims the environmental impact of switching from incandescent bulbs to LEDs is as follows:
700,000 gigajoules of energy savings annually.
20,000 tonne reduction of greenhouse gas emissions.
Equal to the removal of 8,000 cars off the roads.
Enough energy for 5,800 homes.
The program isn't really free, Albertans are paying for it with money from the carbon tax.
But the exact cost hasn't been determined. Energy Efficiency Alberta has budgeted $136 million for its "residential energy efficiency" programs between the 2017-18 and 2018-2019 fiscal years.
The 150,000 households represents 12 per cent of all single-family homes in the province. The agency says the average number of LED bulbs installed in each house is 26, representing a savings of approximately $50 per year.
---
Bryan Labby is an enterprise reporter with CBC Calgary. If you have a good story idea or tip, you can reach him at bryan.labby@cbc.ca or on Twitter at @CBCBryan.