AFN a 'cheerleader' for Ottawa, says national chief candidate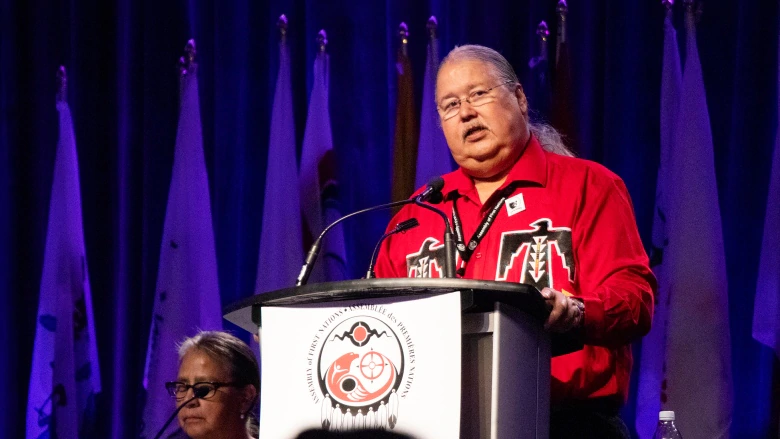 One of the candidates for national chief for the Assembly of First Nations said Tuesday the organization had "strayed" from its principles and is now Ottawa's "cheerleader."
Russ Diabo, a policy analysis for Kahnawake in Quebec, said he was the only choice for "transformative" change of the AFN. Diabo said First Nations people are at a key juncture in their history and chiefs needed to choose wisely on who should lead the AFN during this period.
Russ Diabo, a policy analysis for Kahnawake in Quebec, is running for the leadership of the Assembly of First Nations.
"If you vote for a status-quo candidate there will be repercussions," said Diabo. "But many of our people are watching this election and they want fundamental change."
Diabo was the first of five candidates to deliver a final pitch to chiefs for their support before Wednesday's vote.
Each candidate has 30 minutes to deliver a speech during in front of more than 2,000 First Nations leaders, elders and youth are registered to attend the assembly's annual general assembly.
Miles Richardson, former president of the Council of the Haida Nation, is the only candidate from B.C. running for the position of national chief.
Candidate Miles Richardson, the former president of the Haida Nation, took the microphone after Diabo.
Richardson's speech was introduced by a video narrated by the candidate outlining his campaign platform.
Richardson said in his speech that his experience fighting to assert the Haida Nation's sovereignty over its territory prepared him to take the fight to the national level.
"This is our time, our people, our nations, as we know ourselves to be throughout history, [we] are the equal of any nation of any nation on this earth," said Richardson. "We are inferior to no one, and guided by the wisdom of our elders, we'll rebuild our nationhood."
Only chiefs of the AFN's 635 member communities or their proxies are allowed to vote for a new leader. As of Tuesday morning, a spokesperson for the AFN said 415 voting delegates had registered although that number could change as registration will remain open until the vote.
Follow here for live coverage of Tuesday's events:
On mobile? Click here
The AFN is a national lobby group tasked with advocating for First Nations according to direction from its members. Most often this involves lobbying the federal government on policy areas like health care, infrastructure, land and education.
The AFN is not a government and is separate from the nation-to-nation relationship between Ottawa and individual First Nations.
The assembly receives its funding from the federal government, the majority of which comes from Indigenous Affairs. That increased from $13 million in the fiscal year ending in 2016 to $32 million for 2018, according to figures shown at the conference Tuesday morning.
Five candidates in the running
Before the vote gets underway on Wednesday, those vying for the role of national chief will take part in an all-candidates forum on Tuesday afternoon.
Perry Bellegarde from the Little Black Bear First Nation in Saskatchewan is running for re-election as national chief. Bellegarde says he wants to continue the work he began since first being elected to the role in 2014.
Bellegarde acknowledges that people accuse him of being too close to the prime minister and the federal government.
"We have to have a relationship with policy and legislative decision-makers," he said in an interview last month.
"It's all about the implementation of Aboriginal rights and title and treaty rights and getting investments, long-term sustainable investments, to close this gap. That's what it's all about."
Assembly of First Nations Chief Perry Bellegarde will seek re-election Wednesday at the organization's annual general assembly in Vancouver. (Sean Kilpatrick/Canadian Press)
Other candidates are:
Sheila North is grand chief of Manitoba Keewatinowi Okimakanak which represents 30 First Nation communities in northern Manitoba. A member of the Bunibonibee Cree Nation, she has also been critical of the Trudeau government and its relationship with the AFN.
"The federal government needs to stop pretending that the AFN is a government," she said in an interview with CBC when announcing her intention to run for national chief.
"Governments of all levels must work with our First Nations governments to make sure that we are truly partners in all decisions affecting us — nothing about us without us," she said.
Assembly of First Nations grand chief candidates at a forum in Whitehorse earlier this month. From left, Sheila North, Miles Richardson, Perry Bellegarde and Katherine Whitecloud. (Nancy Thomson/CBC)
Katherine Whitecloud is a former Manitoba regional chief of the Assembly of First Nations and former executive director of the Assembly of Manitoba Chiefs.
Whitecloud said she's heard from First Nations leaders across the country that it's time for the AFN to take a new direction.
"The feeling of the leadership is that the AFN is becoming and behaving like a government representative," said Whitecloud at a forum in Manitoba last week.
"The original intent of the AFN was to be an advocacy, lobby group, to open the doors, to create the field to create the space for our leaders to be able to do what they need to do with the Queen's representatives."