'A warning': Acid pollution threatens ecosystems in Alberta and Saskatchewan, study says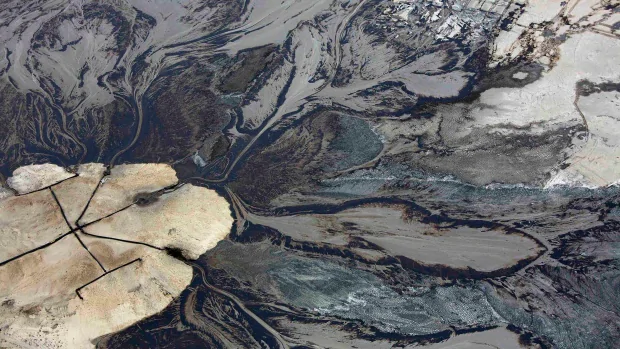 Lakes and rivers across northeastern Alberta and northern Saskatchewan are weathering unsustainable levels of acid pollution, a three-year study suggests.
The study, by Environment Canada, Alberta Environment and Parks, Saskatchewan Environment and Trent University and published this month in the journal Atmospheric Chemistry and Physics, suggests contamination levels have reached critical levels in some areas.
The pollution is threatening terrestrial and aquatic ecosystems, already fragile from years of acid exposure, said study author Paul Makar.
"This is a warning," said Makar, a senior research scientist with Environment Canada's science and technology branch.
"If we continue to emit at this level, there will be ecosystem damage at some point in the future."
Acid pollution can result in stunted tree growth, diminished aquatic life, and reduced fish stocks, Makar said.
Based on 2013 emissions levels, the study predicted ecosystem damage will occur over 330,000 square kilometres of wetlands and across 10,000 square kilometres of terrestrial ecosystems.
"It's half the size of Alberta," Makar said. "That was a surprise for me, the sheer scale of it. I was just looking at that number thinking, 'Wow.' "
A complex map
In the summer of 2013, researchers flew over the Alberta oilsands to measure airborne emissions in the vicinity and downwind of major mines.
The data was used to build a model of the levels of acid contamination that might be found on the ground and in wetlands.
The model's estimates were then evaluated against weather and snowpack data from northern Alberta and Saskatchewan.
Researchers did not zero in on the exact source of the pollution, Makar said, but the Alberta oilsands were "definitely a hot spot."
The study combined high-resolution 3D modelling and used protocols set out by the United Nations to calculate critical loads for sulphur and nitrogen.
Researchers painstakingly accounted for the sensitivity of each area, Makar said.
"When you get into the math and the calculations, there's a lot of things that go into it such as: What's known about the soil chemistry? What's known about the water chemistry?
"We mapped all that out.
"We worked this out on a grid that goes all over Alberta and Saskatchewan in two-and-half-kilometre, tiny little squares.
"In each of those squares we worked out what the deposition is and what the ecosystem in that particular location can handle."
According to the study, some ecosystems are less able to withstand the contamination, Makar said.
It all comes to how acid can be neutralized in nature, he said. When an acid and a base combine, they cancel each other out, producing a more neutral substance.
In the air, dust particles can neutralize acid. Alkaline or basic soils, such as those rich in limestone, calcium carbonate, can also neutralize the acid directly, he said.
This buffering system protects the ecosystem from the harmful effects of acid pollution.
But in some areas, these neutralizing agents become depleted, leaving the ecosystems more vulnerable.
Fish will be the canary in the coal mine.– Paul Makar
"Different ecosystems have different levels of sensitivity to acid," Makar said.
"You have somewhere that's 500 kilometres downwind of the source that's very sensitive and it can't take very much. You may have something that's 10 kilometres from the source that's not sensitive at all.
"We put together ecosystem data to calculate the critical loads, and that's something that varies a lot."
Wetlands are particularly sensitive to pollution and the study's modelling confirms they are most at risk, Makar said.
"Fish will be the canary in the coal mine," he said. "They'll start having problems first."